Remember When Nobody Liked the US Dollar?
10/03/2014 9:00 am EST
Focus: CURRENCY
In this video, Bob Stokes of ElliottWave.com contrasts this year's nearly vertical rise of the US dollar with the almost exact opposite dollar sentiment several years ago. Bob also highlights the interesting indicator that often signals that a trend is about to end.
Editor's note: You'll find the text version of the story below the video.
From July 2001 to March 2008, the US Dollar Index lost 42% of its value.
Sentiment toward the greenback grew so negative that in December 2007, a famous fashion model demanded to be paid in any currency except the US dollar.
That same month, The Economist featured this cover: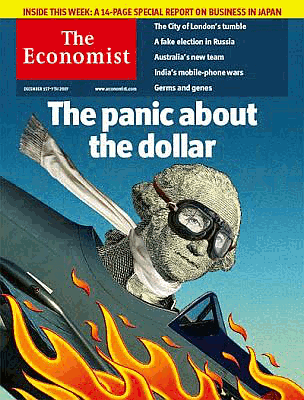 Around that time, the German magazine Der Spiegel ran a similar cover.
The December 2007 Elliott Wave Financial Forecast noted:
"One more signal of an impending dollar reversal is the appearance of magazine covers that depict the US dollar falling in flames....According to Paul Montgomery's magazine cover indicator, the dollar's trend should be about a month away from exhaustion...."
The magazine cover indicator says that when a financial trend makes the cover of a popular magazine, the trend is near an end.
Well, the dollar reached its long-term low on March 17, 2008. The greenback has moved higher ever since.
Cut to July 2014, when the dollar's rise turned nearly vertical. Sentiment today is the opposite of what it was at the 2008 low—our Short Term Update says that among traders—dollar sentiment has reached "the greatest optimism in over four years."
But we know that sentiment extremes often anticipate a trend change. Investors would do well to consider the big picture:
"A rising dollar is consistent with [The Elliott Wave Theorist's] long-standing forecast calling for a deflationary depression: A severe contraction in liquidity will send debtors scrambling for scarce dollars to pay back dollar-denominated obligations."—Financial Forecast, September 2014
During a severe economic contraction, cash will be king.
By Bob Stokes of ElliottWave.com
By clicking submit, you agree to our privacy policy & terms of service.
---