Euro Problems Not Running Away
10/27/2014 9:00 am EST
Focus: CURRENCIES
The staff at Blackwell Global outlines how the euro crisis has overpowered many other global financial issues since the euro first began to fall three years ago, what is being done about it by the ECB, and how long these problems look likely to persist.
Despite all of the noise you hear on the markets, none is more ominous than the euro crisis, which is dragging on into its third year now. A combination of a crash, and deflation, and what some might argue is the European Centrals Bank's (ECB) inability to act on the markets, has so far hurt the euro currency and confidence in the EuroZone as a whole.
It's no surprise, really, that the ECB seems to be unable to act unless it really has to. After all, the ECB is made up of several different sovereign nations, all of which have a vested interest to protect their own economies over that of their neighbors. Coupled with a strong Germany that is vehemently against further stimulus in general and you have a recipe for a headache that has so far kept Draghi talking tough but not acting it.
Recent data overnight showed some positive data for the EuroZone, as PMI data for the zone lifted in manufacturing and services, however, in France, it weakened much worse than expected. Spain's unemployment dipped a little lower to 23.7%, but, really, that is still absurdly high for Spain and the youth unemployment rate is much higher than that.
When it comes to the currency, the main threat is deflation and it continues to persist in the EuroZone. Many people now believe further lows are a possibility. I certainly believe so in the current market climate with a strengthening US dollar.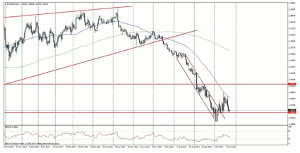 Click to Enlarge
Looking at the charts, there has been a pullback and now we are looking at further lows at the chart. A breakthrough of the current 1.2624, which could—in turn—lead to a more immediate push down to 1.250.
These problems look likely to persist when it comes to the euro and we will see further falls, it's more a matter of time. Germany may be making the most of it but in order to really stimulate growth, you need the currency to drop further.
By the staff of Blackwell Global