Will the Bearish Trend Continue on the EUR/USD?
04/28/2015 9:00 am EST
Focus: FOREX
Mentor and senior trader Zaheer Anwari, at The Dynamic Trader, takes a technical look at this currency pair and explains that—by looking at the bigger picture—he's been able to gain a better idea of price structure and develop a future outlook as well as a plan to protect profits.
The EUR/USD
The EUR/USD has been a highly profitable trade for long-term trend traders since price found resistance at the round number level at 1.4000, delivering several 1000 pips over the course of the trend.
The Monthly

Below is the monthly chart which clearly shows the bearish trend in progress since May 2014. Price has shown very little respect for support levels on its descent, which is expected once a trend has established itself.
The challenge that many face is understanding what are the main areas of support and resistance to take into consideration. Most traders use the lower time frames, and hence, deal with a lot more intraday noise, and for that reason, a lot more support and resistance levels.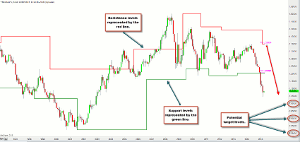 Click to Enlarge
By looking at the bigger picture, I get a much clearer picture of price structure. I use the monthly chart to establish areas of support and resistance with a proprietary tool that automatically updates itself when new levels are created.
I also look at the highest price, the lowest price, and the closing price of the previous year (2014 for now) represented by the pink lines. This, again, is a tool which will automatically update at the turn of the New Year.
Beyond that, I then look at round numbers—which not only act as support and resistance—but target levels once price is in a trend. When price found resistance at 1.4000, it then went on to target 1.3000, 1.2000, and then 1.1000. As price is now trading below 1.1000, I would like to see it target the major figure of 1.0000.
The Weekly and the Daily
The weekly and the daily charts are where I look for the bias in price action and where I want the trend direction to be in alignment on both time frames.
The 200-MA is used to give price action the bias. When is price is trading below the weekly 200-MA and the daily 200-MA, this is considered a strong bear market and this is where trend traders limit positions to shorting opportunities.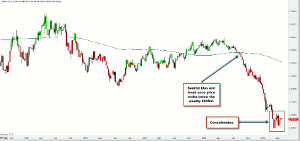 Click to Enlarge
The daily and the weekly charts also have a proprietary trend filter which eliminates breather areas and gives us a clear picture of the long-term trend. When the trend filter is red on both time frames, we have big brother (weekly) and little brother (daily) in trend alignment.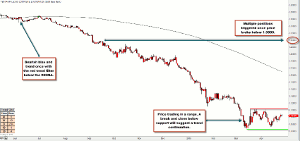 Click to Enlarge
Looking at the EUR/USD, once we had the red trend filter on both the daily and the weekly time frames below their respective 200-MAs—suggesting bias and trend alignment—this did start to pique my interest as a trend trader. But patience still needed to be applied.
As a trend trader, I am not interested in tops and bottoms but in letting a trend establish itself and trading the most profitable part of the trend: the middle. Once price had confirmed a trend—and dictated an entry below 1.3000—did I allocate risk to this pair. Price has since gone on to cover over 2000 pips and has triggered multiple positions which are still open today.
(Please note that I only scale in to winning positions and not losing positions.)
The Future Outlook for the EUR/USD
Looking at current price action, we can see that price is trading in a range with the round number 1.1000 acting as resistance and the March low at around 1.0400 acting as support. Areas of consolidation are a natural feature to price action and should be expected. We cannot expect price to continually create lower lows in a trend.
It is during these periods where traders must go into capital protection mode and apply patience. The EUR/USD has handed out phenomenal growth on my trading account since September 2014 and I do not want to risk giving it away by trading in an environment that carries more risk of losing money than making money.
I have a trailing stop loss in place as well as discretionary methods of exiting, but for now, I am standing aside until price dictates a breakout. As trend traders, we favor a breakout in the direction of the trend and so my bias is still with the bears.
The longer the consolidation, the bigger the breakout in trading, and so, our patience will be rewarded.
(Please note that as a trend trader, when one market goes quiet, I look to other markets such as the US Stock market for trends.)
Trend trading is a much slower and much more methodical approach but offers far greater profits through scaling in and in minimal screen time a day.
The EUR/USD has been a simple trade to profit from so far.
By Zaheer Anwari, Mentor and Senior Trader, The Dynamic Trader