An NFP-Driven Short Set-up in AUD/USD
06/03/2015 5:00 am EST
Focus: CURRENCIES
Wednesday's NFP report could be just the catalyst needed to set up a high-probability intra-day reversal in this currency pair, writes Kaye Lee of StraightTalkTrading.com.
It's the notorious first week of the month again and many traders are no doubt anticipating the implications of the latest non-farm payroll (NFP) report, due out on Wednesday. One thing is certain already: Traders are watching the numbers closely for guidance on future market—and monetary policy—direction.
While risk is certainly increased during this period, some forward thinking often helps to provide insight into potential market movement. In particular, three points come to mind:
Increased uncertainty will abound. As a result, traders who are already sitting in profitable trades will want to protect those returns.
Currencies will often be confined to ranges prior to these announcements, waiting nervously for directional indication.
If we can analyze crowd psychology, it is possible to anticipate the zone in which these ranges will play out.
With these points in mind, AUD/USD (see Figure 1 below) catches our imagination as a potential trade target around this week's NFP report.
It's clear from the daily chart that someone (or several parties) has been making considerable money riding the AUD/USD downtrend of late. Considering the steepness of the move, it is highly probable that these traders will wish to protect those profits. In fact, there is already some sign of profit taking, with prices rising on what threatens to be a bullish engulfing candle.
Figure 1: AUD/USD Daily Chart

Click to Enlarge
Classical technical analysis would suggest that the next move will be upwards, but with the news in mind, it is more likely that the pair will tread water, instead waiting to see what the NFP report has in store.
Thus, the more believable scenario would be a range, which we begin to see more clearly on the below four-hour chart of AUD/USD (Figure 2). As you'll see, the trend has been steep and steady to the downside, and thus, traders could be a bit confounded. Actually, most Fibonacci and Elliott Wave practitioners may even have trouble anticipating a good range boundary.
Figure 2: AUD/USD Range on Four-Hour Chart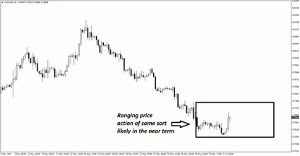 Click to Enlarge
In this case, to identify such a level, we use the proprietary Blue Box protocol, which makes use of statistically sampled estimations of current trader psychology. And, as shown on Figure 3 below, there is a highly probable level where traders may try to resume the downtrend or at least find the top of the range.
Figure 3: Most Probable Turning Point for AUD/USD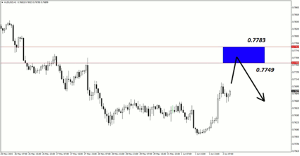 Click to Enlarge
Traders may want to watch the hourly charts this week to see if AUD/USD does rise and challenge this overhead resistance zone. Should that happen, short trades could be executed in accordance with your trading plan. Some potential entry triggers would include bearish engulfing candlesticks, divergence, and pin bars.
By Kaye Lee of StraightTalkTrading.com