Forex Volatility Nearly Guaranteed—Here Are Pairs We're Watching
09/15/2015 9:00 am EST
Focus: CURRENCIES
Given that forex volatility is almost guaranteed on a huge week for the USD ahead of the highly anticipated US Fed interest rate decision, David Rodriguez, of DailyFX.com, highlights the currencies and strategies he's currently watching.
• Forex volatility prices surge ahead of critical US Federal Reserve Interest Rate decision
• Our focus remains on our high volatility Breakout2 trading strategy
• Real data shows that most retail traders do poorly in volatile markets, caution remains advised
Major FX market volatility is almost guaranteed on a huge week for the US dollar. Here are the currencies and strategies we're watching.
FX derivatives markets have sent volatility prices for the US dollar and broader counterparts to multi-month highs ahead of a highly anticipated US Federal Reserve interest rate decision. And indeed there is ample reason to believe that the USD will see big swings across the board; interest rate futures show great uncertainty surrounding the Fed's rate moves and whether or not they raise rates will likely elicit strong market reactions.
Short-term Forex Volatility Prices Surge on Major Week for FX Markets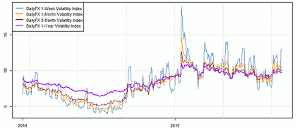 Data source: Bloomberg, DailyFX Calculations
Click to Enlarge
High volatility expectations warn that market conditions will likely remain challenging in the days ahead. Past performance is not indicative of future results, but our data shows that the majority of retail traders tend to do poorly during fast-moving markets. This is due to the fact that most tend to range trade, buy low and sell high. Such a strategy works well during slower-moving markets, but traders should likely avoid range trading until we see some semblance of normalcy in major FX pairs.
In the meantime we'll look to our volatility-friendly Breakout2 to do well across US dollar pairs. Again, we need to emphasize that past performance does not guarantee future outcomes. Yet high volatility systems tend to outperform when volatility expectations point to major exchange rate swings.
See the table below for full detail on market conditions and preferred trading strategies.
DailyFX Individual Currency Pair Conditions and Trading Strategy Bias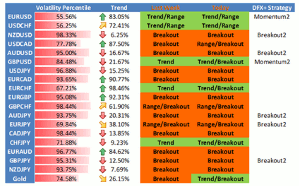 Click to Enlarge
By David Rodriguez, Quantitative Strategist, DailyFX.com