Trading GBP/USD? It Can Be Quite Straightforward—UBS
09/24/2015 9:00 am EST
Focus: FOREX
Since trading cable can be choppy, Yohay Elam, of ForexCrunch.com, suggests it may be important to watch out for this currency pair as a signal to the next move. Yohay also shares the views from UBS on future moves of the British pound against the US dollar.
Trading cable can be quite choppy. Perhaps it's important to watch out for EUR/GBP as a signal to the next moves.
Here are the views from UBS on future moves of the pound against the dollar.
Here is their view, courtesy of eFXnews:
BoE Governor Carney's inconsistencies on the currency appear to have cost sterling of late, notes UBS.
"In the wake of the August inflation report it seems clear that the threat of persistent headwinds from sterling strength will feature for some time to come. Kristin Forbes is clearly leading the effort to quantify pass-through but the process seems quite dynamic," UBS adds.
"We believe the sterling trade is very straight forward: GBP/USD can rise through 1.60 as long as EUR/GBP is anchored at 0.70 or above," UBS argues.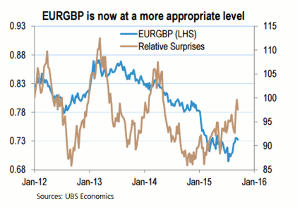 Click to Enlarge
"Given EUR/GBP is the bulk of the ERI, and the assumptions for the index are at 93, there is minimal scope for GBP to rise against both simultaneously before the BoE relents. We target a February hike," UBS projects.
By Yohay Elam, Founder, Writer, and Editor, ForexCrunch.com