Let The Market Lead You To Profits! (Part 1 of 2)
08/28/2008 12:00 am EST
Focus: STRATEGIES
Too often, traders get anxious to "find" a trade when the market is consolidating or trading in a tight range. One popular method is to buy or sell a break out of these trading ranges, but experienced traders know that just buying a break above or selling a break below a trading range often leaves them long or short on a false breakout and price then moves right back into the trading range.
Instead of anticipating where the market is going, let the market tell you where it's going! Let it break out on one side or the other and then show you that there are additional follow through buyers or sellers before you take a position. Don't worry about "missing the move!" Trust me, there are always quality entries in the direction of the break out once you've seen the follow through buyers or sellers, if you are patient and know what to look for. Here's a quick example: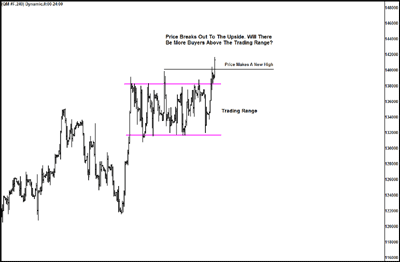 Click to view larger image
What other choices do you have to play this opportunity?
More tomorrow in Part 2
Timothy Morge
tmorge@sbcglobal.net
email me
www.medianline.com
www.marketgeometry.com