How to Tell Where Other Traders Have Placed Their Stop and Buy Orders (Part 2)
03/31/2009 12:01 am EST
Focus: STRATEGIES
I have scouted out this chart, marking where I think market structure has left important areas of support and resistance. And I have also marked where I think the majority of traders will be leaving orders to try to exploit the short-term swings in this market. Let's see how these two areas come into play as the day goes forward.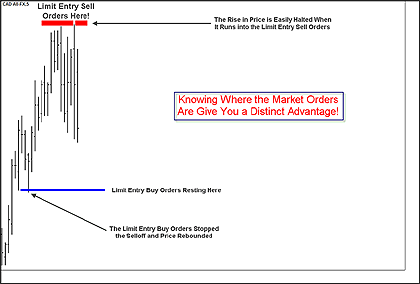 Price sells off a bit more before climbing back to re-test the prior highs. You can see that price had no ability to go higher once it got anywhere near the prior highs. The bar that tested that area was a wide range bar that closed well off its highs. This is a sign of weakness and it reinforces the view that there are a good amount of limit sell orders at that area.
After testing the highs and failing, price sold off and is now testing the area I marked where there should be a good amount of limit entry buy orders. Because price stopped here the last time price sold off and then rallied to new highs, many traders will initially be willing to attempt to go long at this area in an attempt to catch a bounce higher. It really is as simple as this: "It worked last time, I might as well try it this time."
If you look carefully, you'll see that while price is having a tough time breaking below and closing underneath this area, it is not bouncing back above it, either. You can see the highs of the bars are lower and lower and eventually, price is going to have to either rally hard out of this area or it will break below the set of limit buy orders and head lower.
Either all the limit buy orders were filled, or more likely, the savvy traders pulled their limit orders and let the market plunge through the area where everyone thought the large set of limit buy orders were supporting the market. When price ran lower, the stop loss sell orders of traders that had just initiated new long positions at this perceived area of support began to be filled, and that helped push price even lower.
But you can see price didn't make a great deal of progress to the downside, and if you look at the closes of each of the last three bars, you'll see that they were closing at or above the original area of support.
The last bar says it all: Traders wanted to get long, because they thought they had a low-risk area protected by limit buy orders. But the savvy traders pulled their orders, letting price plunge. Once the weak long positions had been washed out of the market, the savvy traders were able to come back into the market and buy right where they originally wanted to get long. Except now, the rest of the market wasn't long as well! If the traders who had just gotten stopped out of their new long positions wanted to get long again, they would have to chase price higher. This is a classic "wash and rinse," and if you find yourself a victim of it, it can be quite maddening!
More tomorrow in part 3.
Timothy Morge
timmorge@gmail.com
www.medianline.com
www.marketgeometry.com