How to Catch a Trade in a Vertically-Trending Market (Part 3)
06/03/2009 12:01 am EST
Focus: STRATEGIES
Now I add a simple calculation: From the lowest low to the latest swing high, I find where the 38.2% geometric, or Fib, retracement lies. This area will attract many limit sell orders, and I'll want to watch this area carefully to see if there are enough limit sellers to stop the advance of price. Price tried three times to break and hold above this level, but it was unable to stay above it. There are lots of limit sell orders sitting at this 38.2% retracement area.
I add a Sliding Parallel, a line that has the same slope as the Median Line but starts right at the third attempt to break above the 38.2% area, because I may be able to use this line if price shows any signs of weakness.
My sign of weakness, or "tell," comes when price breaks below the recent trading range to test the upper Median Line parallel from above. Note that this upper parallel now acts as support, so it gives me confidence that these sets of lines, including the sliding parallel, is carrying the same frequency as price. Given the chance, I am willing to enter trades off of these red, down-sloping lines, but I have to find a high-probability trade entry set up that I recognize.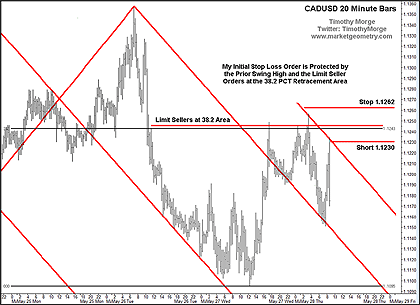 Click to Enlarge
Now price gives me the opportunity I always look for: A high-probability trade entry at a tested line. I get long Canada and short US dollars at 1.1230, which is at the re-test of the red, down-sloping Sliding Parallel and my initial stop loss is above the three attempts to get and hold above the 38.2% retracement area, as well as above the 38.2% retracement area, where I believe there are lots of limit sell orders that will protect my initial stop loss order at 1.1262.
I wish you all good trading,
Timothy Morge
timmorge@gmail.com
www.medianline.com
www.marketgeometry.com