The "Three Up, Three Down" Trading Strategy (Part 4)
06/25/2009 12:01 am EST
Focus: STRATEGIES
Let's see what the market did on the opening that day. Price sold off immediately, and in a near-vertical fashion. Price came down to test the red, down-sloping Median Line, but I still had not found what I considered a high-probability entry. Then, price slid closer and closer to the upper Median Line parallel, leaving three drives to the top and bottom, if you look closely: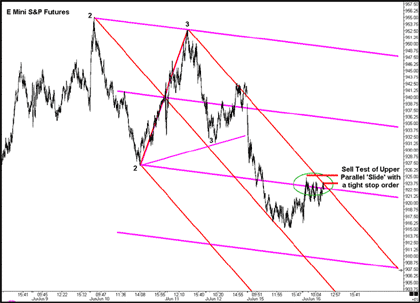 Click to Enlarge
Once price tested the red upper Median Line parallel, I entered a short position with an initial stop loss order above the prior swing high. Note that price is also testing the pink, lower modified Schiff Median Line parallel from below, and this is another reason why price should run out of upside directional energy. This is an area of confluence, where two outer Median Lines cross to form an Energy Point.
Let's see how this trade played out: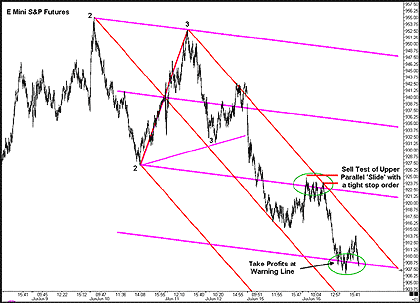 Click to Enlarge
Price plunged after testing the red, down-sloping upper Median Line parallel (just above 923.50) and traded down to test the first Warning Line of the pink Median Line set at 909, where I took my profits.
It's often difficult to find a high-quality entry in a market once it has gone vertical, but if you are patient and know your tools, you can usually find an entry when price pauses to catch its breath, right before the ride on the slide resumes.
Timothy Morge
timmorge@gmail.com
www.medianline.com
www.marketgeometry.com