How to Predict Price Direction: An Aussie Dollar Case Study (Part 4)
07/02/2009 12:01 am EST
Focus: STRATEGIES
Let's look at another chart, and do a simple geometric expansion where the distance price travels from its highest high to the support at the horizontal line is measured and then that same distance is projected down from the most recent major high, coming down the red, down-sloping upper Median Line parallel. This projection (A-B = C-D) coincides with the blue, down-sloping Median Line, so I decided to put the limit buy order for the second half of my position five pips above this level, at 7893.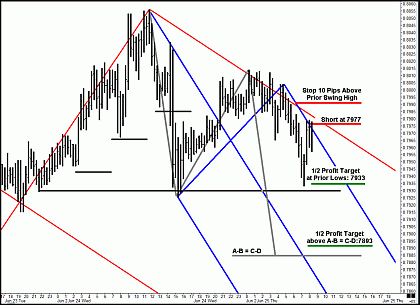 Click to Enlarge
I check that all my contingent orders are in place and then move on to begin charting the commodities group. After charting crude oil futures, I come back to check the Australian dollar chart. Here's what I see: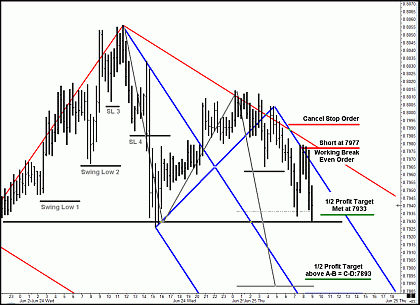 Click to Enlarge
I was quickly filled on my limit sell order at .7977, and while we all watched, price ticked .7935, .7936, .7937, .7936, .7935, .7934, .7935, .7934, and finally, .7933 followed by .7932. Although many people watching live have been telling me I am filled on my first profit order, I check my audit trail to make certain I am filled on my limit buy order at .7933 (price is printing .7930). Then I check that my initial stop loss order was moved to break even and that it is now only half as large as it was in the beginning of the move. Once I am certain my second profit target is in the market, I go back to charting commodities and then move on to the bond and stock index futures.
At the end of that morning's Market Maps session, I pop back to the live Australian dollar chart and we all note that although my first profit target has been hit, price is now consolidating.
Let me show you how the trade unfolded after the Market Maps session ended: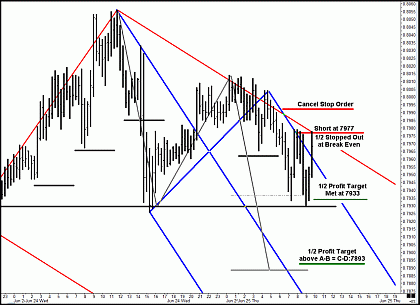 Click to Enlarge
About ten minutes after the end of the market maps session, price began to trade higher and soon stopped me out of the second half of the position. One of the important concepts I had mentioned during the session was that if you were in the process of building the size of your account, as most new or inexperienced traders are, there is some level of unrealized profit that you reach in each trade where: 1) you can no longer let the trade turn into a loss (hence the use of break even stops relatively early in the life of this trade); and 2) you must book some profit for all the time and focus you put into the trade (and also because you had your capital at risk for some amount of time and should be paid for risking that exposure). As your account size grows, these numbers change along with the rest of your money management methods, but this is a good rule of thumb to use when starting out.
Timothy Morge
timmorge@gmail.com
www.medianline.com
www.marketgeometry.com