How One Repeating Pattern Makes for Consistent Trading Profits (Part 2)
07/14/2009 12:01 am EST
Focus: STRATEGIES
See how price boxed itself in, leaving double tops and double bottoms as it congested in a very narrow range, relative to the size of the prior swings. Note that the pattern does not require double tops and bottoms, but instead relies on identifying a series of smaller range, "bunched" bars. When I can identify a series of bunched bars, as I marked on the chart below with two magenta lines, I add in a new Median Line, using the beginning of the bunched bars as my last pivot, or C pivot.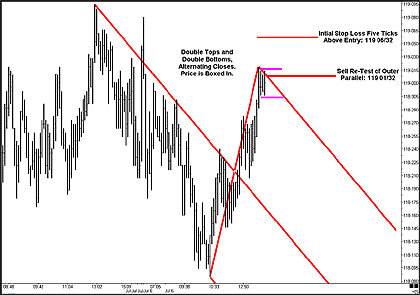 Click to Enlarge
Now it is time to rely on the statistics of the entry and follow the rules I have laid out for myself, because I have done extensive research that tells me the likely outcome of what I see happening here. Remember though, your eyes may not see what I am seeing in real time, so please don't just assume that what you see and read here will translate into instant profits for you. You should only consider attempting to trade this pattern after doing your own research, to make certain that you can consistently see this pattern, and if you can, that it consistently produces a profitable outcome for you. Always approach other traders' ideas this way, please! Make sure it works for you before placing your money on the line.
Once bond futures have bunched or clumped in this multiple bar pattern (I really like at least four bars in the clump, but I prefer to trade on the fifth, sixth, or seventh bar), I enter my orders, which are very simple:
I enter on a re-test of the outer parallel with a limit order.
My initial stop loss order is always five ticks above the entry order.
When I initially began trading this pattern, I always entered a limit profit order for the entire size of my position at eight ticks past where I had entered. If I got my eight ticks, I exited the position. But after trading this pattern hundreds of time, I began to notice that it was quite easy to catch runners, or trades that went quite a bit further than I was looking for initially, without adding much extra risk to the original trade plan. Now I take off half of my position at eight ticks profit using a limit order and immediately put a profit stop underneath the balance of the position two ticks lower, protecting six ticks if the position backs up. The position does back up a good amount of the time, but I find that I catch more than one point on the remaining half about twice a month and I also make a good amount of extra profits on that second half about a third of the time, so the trade off of two ticks seems well worth it.
Doing research on the current bond futures market conditions, I have found this pattern currently works throughout the day and even in the electronic sessions.
Here's a look at my set of orders after the market allows me to enter this particular "corner trade":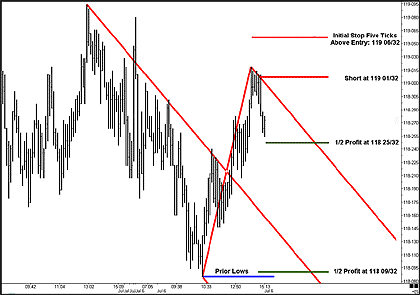 Click to Enlarge
I got short using a limit sell order at a re-test of the red, down-sloping outer parallel while price was still bunching. I purposely did not wait until price broke below the bunching pattern, because that would expand the size of my initial stop loss order. One of my students in mentoring calls this "Cutting close to the bone." Because I have entered while price was still within the bunching phase, I can continue to use a small initial stop, and that means the risk/reward doesn't deteriorate too much, even if I only get a half of my position off at eight ticks. Note that the initial part of this trade does give me a risk/reward of less than 2:1, and that is unusual in my trading. In almost all of the repeatable patterns I trade, I require a minimum risk/reward ratio of 2:1, but the high probability associated with this trade dictates that I accept a slightly lower risk/reward ratio to trade it successfully.
The profit order on my first half of the position is eight ticks past my entry, and if that limit buy order at 118 25/32 is filled, I will immediately enter a stop profit order (or profit floor) at 118 27/32. If price backs up, I will be stopped out for an average profit of seven ticks on the entire position for a profit of $218.75 per contract, before commissions. If price continues to head lower without hitting my profit floor, I will gain additional profits.
I've marked what I consider to be the logical profit target for the second half of this position if price hits my first profit order and then simply continues lower, a test of prior major lows, and of course, if price does head lower through my initial profit target at 118 25/32, I will hide new profit stop orders above any new swing highs that develop as price moves lower (generally three to five ticks above any new swing high).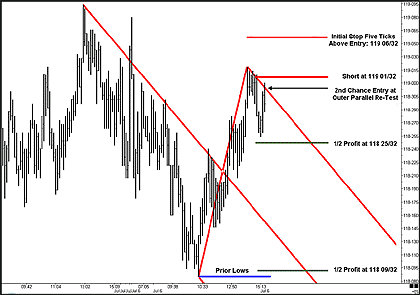 Click to Enlarge
Price nearly filled my first limit buy order at 118 25/32 and then pulled all the way back to re-test the red, down-sloping outer parallel. For those of you using Median Lines to trade the bond futures, this pullback in price may be an interesting place to attempt a short entry if you didn't know or didn't like the "corner trade" entry technique.
Or, I may be about to be stopped out of this trade for a five-tick loss!
Timothy Morge
timmorge@gmail.com
www.medianline.com
www.marketgeometry.com