How One Repeating Pattern Makes for Consistent Trading Profits (Part 3)
07/15/2009 12:01 am EST
Focus: STRATEGIES
The down-sloping outer parallel marks where price should run out of upside directional energy, and as you can see, it did exactly that. Price plunged after testing the outer parallel and quickly filled my first limit buy order at 118 25/32. Once I was certain I was filled, I entered a stop profit order, or a profit floor, on the remaining portion of the position at 118 27/32.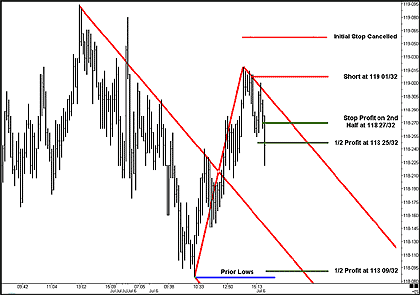 Click to Enlarge
I was hoping this trade would turn into a "runner" and give me profits above and beyond what the original pattern was designed for, but if price backed up and hit my stop profit, I would still be putting an average of seven ticks of profit in my account on the entire position, which would be worth $218.75 per contract, before commissions.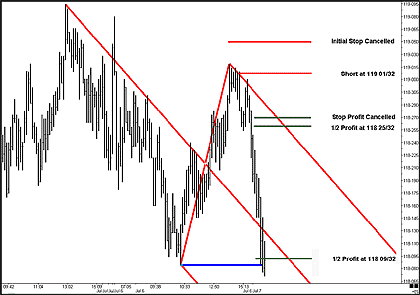 Click to Enlarge
Price literally went vertical and quickly filled my limit buy order at 118 9/32 on the remaining portion of the trade. I initially risked five ticks on this simple, repeatable pattern and netted eight ticks on the first half and 24 ticks on the remaining portion of the position. The first portion netted me $250 per contract (8 X $31.25) and the remaining portion netted me $750 per contract (24 X $31.25). Both portions are nice profits that unfolded in a fairly short period of time.
Let's see how the market progressed: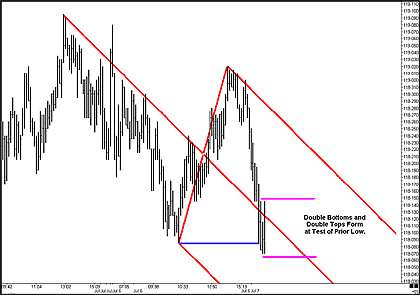 Click to Enlarge
Once price tested the major prior lows, it began to bunch, or clump, again. Even though I pointed out that they need not be present, you can see price again left double tops and double bottoms at the extremes of this clump or range. And though the size of the bars are a bit larger than I normally like when looking at corner trades, because price is in the process of testing what was a major prior low and could be an area that acts as support, my eyes are drawn to the clump of bars I outlined with the two magenta lines.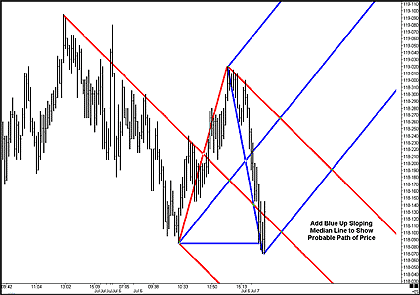 Click to Enlarge
To get a feel for the probable path of price if this clump or corner holds at the prior lows, I add in a blue, up-sloping Median Line and its parallels.
Two things immediately catch my attention: First, price tested the prior low but made little downside progress and quickly popped back above it; and secondly, price traded below the red, down-sloping Median Line, then made some nice progress down toward the lower Median Line parallel, and is now closing back above the red, down-sloping Median Line. This action was described and researched by Dr. Hagopian, a student of Dr. Andrews.
Timothy Morge
timmorge@gmail.com
www.medianline.com
www.marketgeometry.com