How a Repeating Pattern Makes for Consistent Trading Profits (Part 4)
07/16/2009 12:01 am EST
Focus: STRATEGIES
When price breaks through a Median Line or one of its parallels, it should make it to its next most likely line 80% of the time. If price fails to make it to that next most likely line, it is likely headed in the opposite direction and headed there with a great deal of energy.
These two together make me like the look and feel of this bunching formation. Let me see what I can do with it: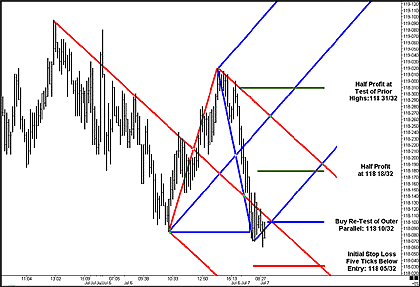 Click to Enlarge
Now, I am going to be completely honest with all of you: While pondering this formation, I got a phone call from an associate at the CME Group and spent a few minutes away from my trading screen. And when I came back, price hadn't drifted out of the potential corner formation, but several more bars had formed. Because time or space had passed, the formation of these bars has moved my potential entry up by several ticks. I should have been getting long bond futures at 118 8/32, and now, I will have to enter a limit order two ticks higher because price has drifted to the right. Still, however, price is within the corner formation, so I am willing to take the order as outlined above:
I want to buy a re-test of the up-sloping outer parallel at 118 10/32
My initial stop loss order is five ticks below my limit buy entry order, at 118 5/32
My first profit order will be eight ticks higher, at 118 18/32. If price gets there, I will take off half my position and put a profit floor under the balance of the position.
If price continues higher, my second profit target comes in just below the test of the clump of prior highs, at 118 31/32. Price may head higher, but this area may act as significant overhead resistance to further price rises. If I manage to get the remaining portion of the trade off at this level, it will have met all my expectations given the basic structure in front of me as I map this market.
Let's see how price plays out: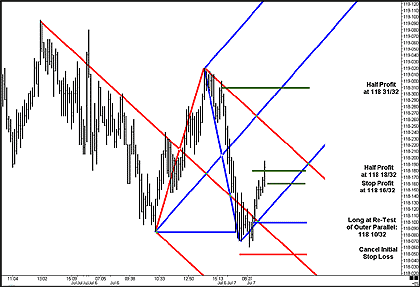 Click to Enlarge
Even though I entered my orders late, I still managed to get long this market, so never give up on a trade unless the market conditions change! Sometimes, price gives you a second chance if it is still in the same basic area. Once my limit buy order was filled, price climbed higher in an orderly fashion, and after five or six bars, my limit sell order at 118 18/32 was filled on the first half of my position. I quickly entered a stop profit order at 118 16/32 as a profit floor. If price backs up now, I want to take the remaining profit and walk away. The trade has met my minimum expectations, and sometimes I get more out of a corner trade, sometimes I don't. The key to this trade is to get the eight ticks on a regular basis and then immediately begin working a profit floor two ticks lower. Believe me, if only I always got the eight ticks on these trades that worked, it would still be a trade I would take every time I saw it set up!
Timothy Morge
timmorge@gmail.com
www.medianline.com
www.marketgeometry.com