Why Following Short Interest in a Stock Is Important
08/20/2009 12:01 am EST
Focus: STRATEGIES
As explained in the Schaeffer's Investment Research education section, short interest is a useful sentiment indicator that measures the level of investor pessimism toward a stock.
While it isn't always a simple "long-only" indicator, it can give you insight into situations where you might see concentrated buying demand.
The purpose of following these stocks is to highlight heavily-shorted companies that could be in the midst of a potential short-covering rally.
Methodology: The query scans my database of companies, which has some basic filters to eliminate stocks that don't trade frequently.
The table below is a filtered list of stocks from yesterday that have at least 10% of their floats sold short and that showed a gain in the previous trading day.
I use this as a tool for finding situations where stocks with heavy short interest have begun to move.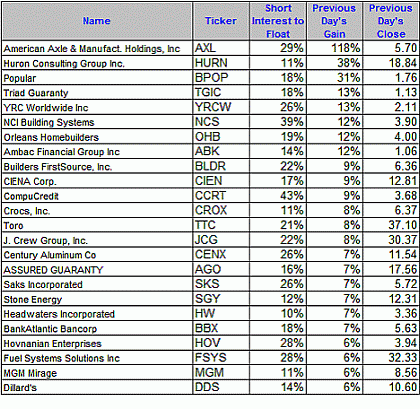 Click to Enlarge
By Nick Perry of Schaeffer's Trading Floor Blog