Lessons from Failed Signals
09/25/2009 12:01 am EST
Focus: STRATEGIES
I mentioned this concept in more detail in an earlier blog post entitled "What Happens when Resistance is Broken," and in a follow-up post entitled "Opportunities from Popped Stops Intraday," in which I described the concept of "popped stops" leading to quick scalp trades long from the pocket of tight stops that often exist just above key resistance levels.
Let's take a look at a recent 60-minute chart of the SPY and note three distinct and classic short-sell signals, all of which failed and led to a "stop-pop" rally, including what could be another one developing right now.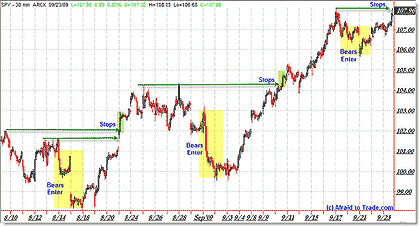 Click to Enlarge
At the end of August, we had a downward price action that led to a large (1%) overnight gap down to the $98.50 lows from which I would assume many traders decided was enough evidence to get short (or exit longs) in anticipation of lower prices yet to come.
However, buyers overcame this selling pressure and pushed prices back up steadily day after day, draining the endurance of the short sellers and moving like a magnet to their pocket of stops that would exist above the $101.50 and $102.00 recent highs.
What's important is to notice what happened once price hit new highs: The market surged quickly as demand took over supply, in part from the old short sellers buying to cover their positions as their stop losses were hit.
The exact same situation occurred in early September as price began falling, gapping lower and then suffering a $3.00 (3%) decline on September 1.
Short sellers began to enter, thinking the price had made a top, and they placed their stop losses higher, perhaps at the $104.00 level.
Once again, bulls/buyers overcame the net selling in early September to push price higher once again and pop out the stop losses from the bears at the $104.00 level, creating a quick momentum pop, or burst, as those tight stops were taken out.
Not to be outdone, our recent market action in late September took price lower and gapped down to the $106.00 level on another large morning gap. More bears, licking their wounds, stepped in to try to swing or position trade the market short again.
Now, after Wednesday's Fed announcement, they might be facing yet another stop-pop run in the event that price continues to a new 2009 high. Should price break $108.06 strongly, I would expect another stop-pop rally just like the others.
Lay aside your opinion of what should happen (i.e. "The market is so overextended that it has to come down!") and focus on the reality of supply and demand, which ultimately moves markets. Wherever and however the demand and buyers are coming in, it is dominant over the supply and the sellers.
Any new high will breach a pocket of expected stop loss orders that have the perverse nature of pushing the market even higher.
By Corey Rosenbloom of AfraidToTrade.com