Using Trendlines to Predict Future Price
11/11/2009 12:01 am EST
Focus: STRATEGIES
Trendlines are easy to draw — find a low and draw a line that touches a subsequent low. In downtrends, the opposite is done as highs are connected with the line.
While trendlines are widely used by technical analysts, it is important to remember that they are best used as approximate tools. They should be drawn widely and small breaks should be treated as warnings rather than trade signals.
In the Dow Jones Industrial Average (DJIA) (Figure 1), prices are holding above a trendline drawn from the March 2009 bottom. A trendline from the October 2007 stopped prices in late October of this year and may offer resistance in the future.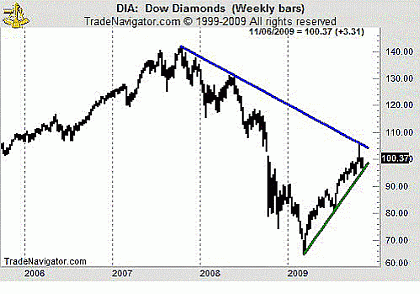 Click to Enlarge
FIGURE 1: DJIA, WEEKLY.
Weekly prices are nearing a critical juncture as two trendlines converge.
In the NASDAQ 100 (Figure 2), prices broke above the long-term downtrend line and are now trading below the uptrend line. Again, we face a critical level and will shortly see how this resolves.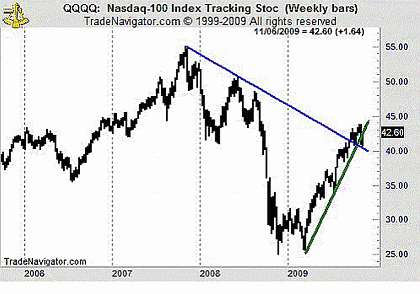 Click to Enlarge
FIGURE 2: NASDAQ 100, WEEKLY.
The weekly chart of the NASDAQ 100 is below the uptrend and challenging that line. It is common for prices to have a false breakout, in this case downward, before resuming an uptrend.
We see similar trendlines in the Standard & Poor's 500. Weekly charts show that prices are in a precarious position. How this is resolved will likely reveal the longer-term trend to traders over the next few weeks.
By: Mike Carr
Mike Carr, CMT, is a member of the Market Technicians Association and editor of the MTA's newsletter, Technically Speaking. He is a full-time trader and writer.