How to Use Fibonacci for Intraday Trading
12/11/2009 12:01 am EST
Focus: STRATEGIES
Monday's trading activity gives me a great opportunity to discuss intraday Fibonacci and how it can be useful for uncovering support and resistance levels that others might not be seeing.
Let's take a look at two dominant Fibonacci grids that were very helpful in guiding a recent trading session: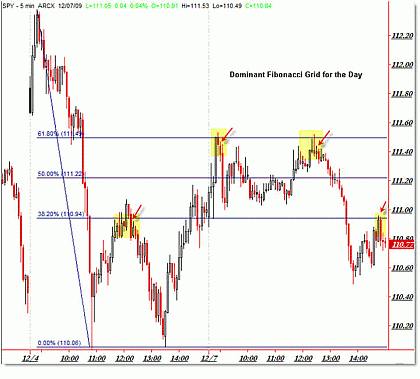 Click to Enlarge
Starting with the jobs report-driven Friday high of $112.38, we then draw a Fibonacci grid down to the intraday lows of $110.04 and the computer shows us the proper Fibonacci retracements as labeled above.
We are thus using the Fibonacci grid in this case to look for possible overhead resistance levels that we will use as shorting opportunities should we find reversal candles, divergences, or other sell signals.
In this case, at noon CST, price slightly breached the 38.2% level at $110.94 and collapsed to test the prior morning low.
Still in retracement mode, price rose and formed an intraday high that morning at the 61.8% retracement of the same grid at $111.50.
Price then reversed down again to challenge a prior support level just above $111.00 (Friday's close).
Not to be outdone, price rallied once again to $111.50, or the 61.8% Fibonacci line before forming internal momentum divergences and two long-upper shadow doji (reversal candles). That gave a low-risk (stop above $111.55) play to challenge the $111.00 level again.
Price cracked hard through this level, and we then turned to a second Fibonacci grid for help.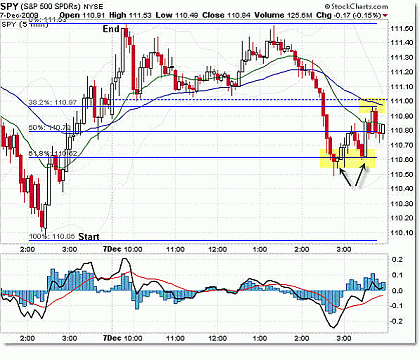 Click to Enlarge
Starting with Friday's $111.05 lows and drawing a Fibonacci grid to the morning highs of $111.53, we then get this grid above.
After breaking prior support, the first target became the 50% retracement at $110.79, and when price broke this level handily, the next target became $1110.62 to exit shorts or consider getting long if there's a reversal candle or divergence at that level.
Price rallied quickly to the $110.80 level again and then double bottomed on the 61.8% retracement at $110.62 before rising into the close.
It only takes a few seconds to draw a Fibonacci grid (depending on your software) and you don't have to keep the grid up all day. You can draw it quickly once, and then write down the numbers as references so that you keep your chart as clutter free as possible.
By Corey Rosenbloom of AfraidToTrade.com