What if the Dow Were Priced in Gold?
01/13/2010 12:01 am EST
Focus: STRATEGIES
Of the many forward-looking market indicators I've had solid success employing (and one of the most interesting tools least discussed in the financial media) is the DJIA priced in gold—"The Real Money," as EWI's president Robert Prechter calls it.
We've been tracking the Dow/gold ratio for many years, and it has served our subscribers well. It's not a short-term timing tool, yet in the longer term, the nominal Dow eventually plays catch up to what is transpiring in the Dow/gold ratio.
Here's a good example. Remember when the nominal DJIA hit its all-time high? October 2007, just above 14,000. At that time, most investors expected new highs still to come. But I warned five months prior, in May 2007:
"One key reason [for a coming top in the DJIA] is the undeniable bear market status of the Dow Jones Industrial Average in terms of gold, the Real Dow..."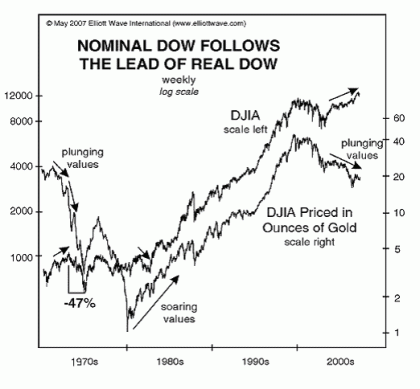 Click to Enlarge
Notice, by contrast, the relative strength of the real Dow versus the nominal Dow, the index in terms of dollars, from 1980 to 1982. By August 1982, when the Dow denominated in dollars bottomed, the real Dow was rising strongly from its 1980 low. The nominal Dow soon played catch-up, and they both rallied more or less in sync until 1999.
Now, instead of soaring, the real Dow is crashing relative to the nominal Dow. In fact, it's barely off its low of May 2006. This dichotomy reveals the weakness that underlies the financial markets' push higher. When mood turns and credit inflation reverses, the ensuing drop in the nominal value of the market should be dramatic.
And a dramatic drop did indeed follow: Between October 2007 and March 2009, the DJIA lost 53%, high to low.
Just something to keep in mind as you trade this market!
By Vadim Pokhlebkin of Elliott Wave International
For more information, download Robert Prechter's free Independent Investor eBook.