Time to Dive in? Not So Fast!
03/09/2010 12:01 am EST
Focus: STOCKS
If you can't beat 'em, join 'em; right?
Well, before we go and buy stocks blindly based on emotions, we need to take a look at the indexes first.
Why? Because most stocks trade in tandem with the indexes, and success in the market is all about knowing what's happening and what's likely to happen in the indexes and executing your plan based on that action.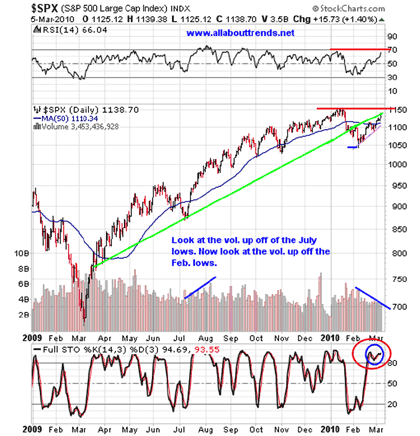 Click to Enlarge
At first glance, SPX is near resistance, the RSI is in the overbought zone, volume is questionable, and full stochastics are overbought. And oh, off the March lows, we have an Elliott Wave five-waves pattern showing. This means we either top out right here at a retest of the highs, a marginal new high (RUT showing that right now), or this is the final leg of this rally. Bottom line: If it looks like a five-wave duck, and quacks like a five-wave duck, the chances are it's a five-wave duck.
As far as the chart above goes, it's all about that little pink line—a downside break of it and away we go to the downside, but not until that happens.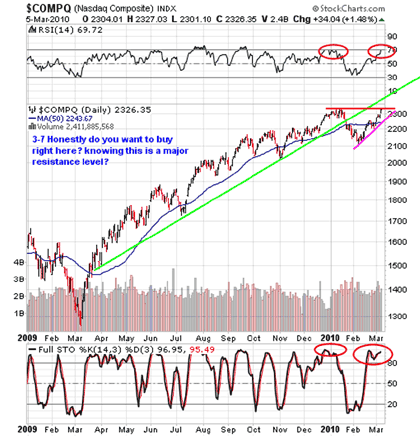 Click to Enlarge
The same goes for the OTC composite, except it had some volume to it. Look at what happens every time the RSI peeks at or above the 70 level.
From a daily perspective, these two charts say to stay away, wait for some sort of a pullback in the indicators at least. Buy the dips and sell the rips; and we just ripped, as they say.
NEXT: Timely Look at 60-Minute Charts
|pagebreak|
Moving on to the 60-minute time frequency, we see the same things: RSI is overbought, the full stochastics are overbought, and it's near trend channel resistance versus support.

Click to Enlarge
As you can see though, this index is just an opening gap away from the 1150 level. The big question is will we test that 1150 level? Or does it even matter? To us, it doesn't even matter because we are not buyers at these levels.
We suspect even if we do hit it, it won't initially stick anyway. We need to see some sort of pullback and the RSI and full stochastics to get oversold to get us interested on the long side, and even then it would be hit and run. Get in, get your point or two, and run, because for us, 1150 is a major resistance level (beware of shakeout highs though, too).
For you wave fans, one could say you've got three waves up or five waves, depending upon how you want to count. Either way, super short term, that too says if it's a three, next is wave four down (our pullback). And if it's a five, then wave one down is next (here too, our pullback).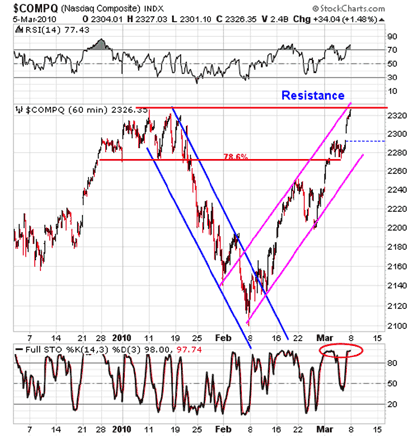 Click to Enlarge
Gosh can you say there? Can you say stretched?
So now that we took a look at the index action, should we play "If you can't beat 'em, join 'em?"
MORE: Review Charts of Some Big-Moving Stocks
|pagebreak|
As far as individual stocks are concerned?
Under the surface, though, in individual stock land, there is no denying that there were some names that just came right up and out into new highs like a rocket in standard blink-and-you-missed-it form. Some of these names were out of sound bases and others had no basing structure. The bulk of them look like the few charts below: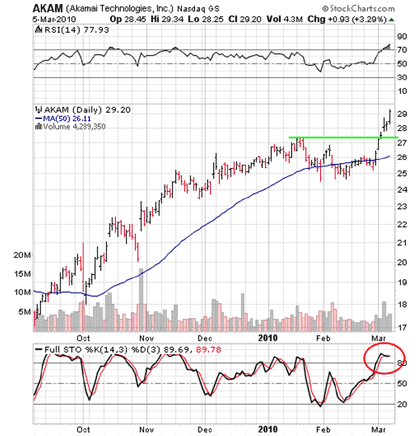 Click to Enlarge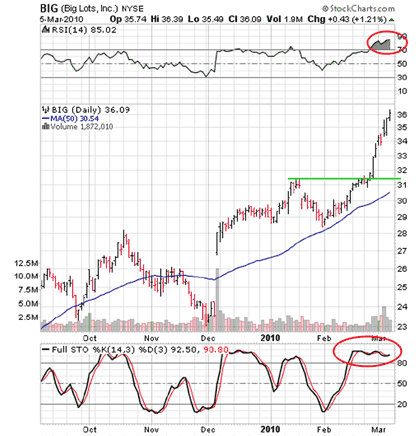 Click to Enlarge
In Summary
Retest of the highs and a pullback to relieve the overbought status, or a pullback immediately to relieve overbought conditions and perhaps find trend channel support. Then another run to retest the highs. If we are going to top, it's going to be in that sequence, but don't rule out a shakeout high at the least.
Another scenario that could present itself is that sometimes the indexes can chew around for a few days at their highs before moving lower.
Should the S&P 500 not stage a climax run or shake out high when all is said and done, be on the lookout for a chart pattern like McAfee below: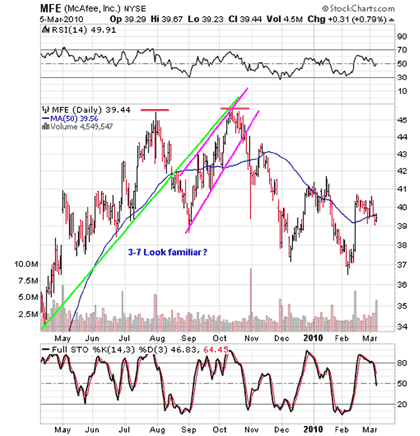 Click to Enlarge
For inverse ETFs, that means don't rule out a shakeout low, of which many are already showing those retests with being a day away from shakeout lows (short-term new lows). So that leads us to the game plan. Due to seeing nothing on the long side from a low-risk entry point, we will sit back and let the long side come to us in the form of low-risk, long-side "pullback off highs" patterns.
By David Grandey of PortfolioTilt.com