Two Scenarios for the SPX
04/06/2010 12:01 am EST
Focus: STRATEGIES
During the last week, we said we'd rather get that 1180 level out of the way on the SPX, and here we are tagging 1180 into the holiday. So now the moment of truth. Do we stall here, or is it away we go to the 1226 level on the S&P 500? We'll find out sometime this week. The big matrix computers make that call.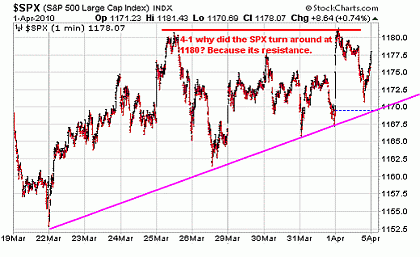 Click to Enlarge
We are looking for a lasting trend change, something that we can sink our teeth into. With regards to the indexes, we need to see a decisive break of the uptrend. However, in our 60-minute charts below, we have support levels at the green lines to contend with first.
If we are going to top, we can see one of two scenarios to be on the lookout for from here over the next few weeks because we all know this ShamWow market can't do this all year.
Scenario One: It will be on a rally attempt after a tag of those green support levels as shown in the blue lines below.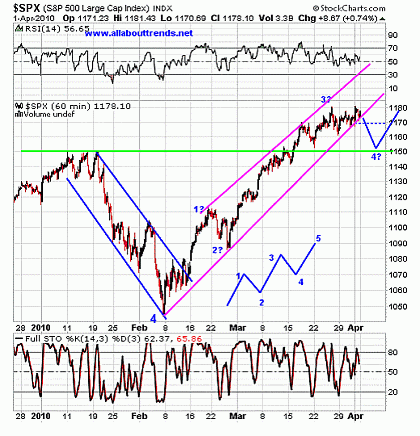 Click to Enlarge
What Does This Scenario Mean to You?
In scenario one above, the game plan for us is to buy stocks that have pulled back off of their highs or that are in clearly defined uptrends, pulling back to support levels or the 50-day average. That's where our long side watch list comes into play.
We would much rather be buying stocks on pullbacks versus chasing stocks because we've been here before, and after you get these nosebleed moves like this in an up, up, and away with no pullbacks to speak of environment, it makes it awful hard to trade long on the long side.
Currently on the long side? The overextended get more over extended (APKT, CLF, AAPL) and the ones that do trigger really don't get much follow through these days, as we've seen.
Even breakouts are questionable these days as we've see a fair amount of them break out and get turned back fast (ATHR, DWA, VOLC, $SOX).
On the long side, it's really about sticking to our discipline of not chasing stocks. We'd much rather trade off of quality patterns.
Scenario Two: Typically, there is a rule of thumb with waves, and that is that if wave two is traditional (and this one was), then wave four can be sideways, and vice versa. If this is the case, then we have another move higher early next week, which would look to the diagram in the chart below.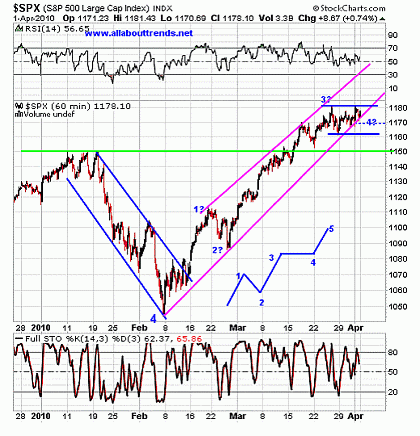 Click to Enlarge
What Does This Scenario Mean to You?
It means just more of the same that we've seen the last week or so, which is the extended get even more extended and it also means it's the fifth wave of the fifth wave to end this whole bear market rally. That's where the short side watch list comes into play.
By David Grandey of PortfolioTilt.com