How Simple Chart Reading Can Pay Off Big
11/03/2010 12:01 am EST
Focus: STOCKS
I posted a recent update on Caterpillar (CAT) on September 30, noting the price at the $80 level, and one month later…not much has changed.
Caterpillar shares have held the $80-per-share level like a major wall of overhead resistance— as we'll see in this update— and now it's time to turn back to simple insights as to whether buyers will break through this level or whether shares will fall.
Let's zoom in on the daily chart to see what's happened—or not happened—in October: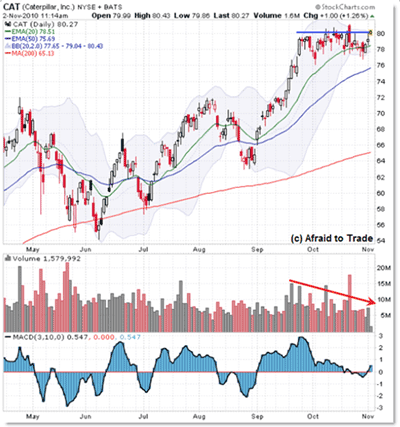 Click to Enlarge
In my original post, I referenced the successful push to this level and the "defeat" in that buyers could not push beyond it. One month later, shares remained mired at $80.00.
This is a great example in how simple technical analysis at key support or resistance levels can have a major affect on investor/trader sentiment and become almost self-fulfilling prophecies.
Despite a few nicks above $80, there hasn't been a sustained close in October.
Volume has steadily declined in October—though technically at a higher relative level—which is consistent with rotation or possibly distribution. We'll soon know which.
The rising 20-day EMA, currently at $78.50, has served as decent support, but there's not enough room to play highly profitable trades between $78 and $80 unless you're an active intraday trader.
For swing traders, the decision comes down to this: "Will Caterpillar break solidly above $80 and carry even higher in a breakout trend continuity move, or will sellers overtake buyers here and form at least an intermediate-term top (leading to a retracement) here at $80.00?"
The simplicity is identical to this post from Monday on the S&P 500, which basically boils down all the complex analysis into a similar simple statement:
"The S&P 500 is at a key multi-time-frame level at 1,200/1,220. Either it's going to break out and spur a new trend move higher, or it won't and will then retrace potentially sharply down from here."
And like the S&P 500, Caterpillar being a highly watched component of the S&P 500 (and Dow Jones), Caterpillar will break out to new highs and likely birth a new trend move…or it won't.
This type of logic is in line with Mark Douglas' teachings in Trading in the Zone where he stated that sometimes the best trades come from simply waiting for price to hit a major, well-known inflection point where it either has to break through or has to turn back, but cannot stay at the level indefinitely.
This type of thinking helps remove bias, temper expectations, and perform more in line with the realities of the markets, i.e. that price really can do anything and only price is king.
And these moves off major inflection points often produce decent-sized moves that trap one side of the market the wrong way.
With the major news announcements today (final election results and Fed policy announcement), we're likely to get our answer one way or the other!
By Corey Rosenbloom, trader and blogger, AfraidToTrade.com