Is This Pet Retailer Going to the Dogs?
01/13/2011 5:02 am EST
Focus: STOCKS
Do you remember the Pets.com sock puppet ads during the SuperBowl in the height of the dot.com era? A high-flying company that made no money with a big multiple? Set a record going from IPO to liquidation in 268 days? What happened to that company? It was bought by PetSmart (PETM).
Below is a daily chart for PETM for the last 30 months.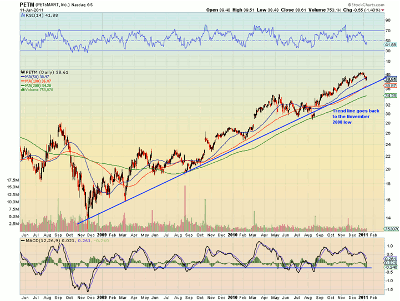 Click to Enlarge
Notice the strong uptrend over the last two years, which runs from $14 up to $40. Notice also that when the relative strength index (RSI) has broken above 70, the price has corrected back toward the trend line and the simple moving averages (SMAs). During the corrections, the Moving Average Convergence Divergence (MACD) indicator fell below the trend line only once.
This correction has often happened with a sideways move through time, but during the one MACD exception noted, it corrected downward. The MACD is currently at its trend line, but price is not near its just yet. I am not suggesting the same fate as Pets.com, but a downward correction is about to happen again. Zoom in now to the same picture, but only over the last eight months.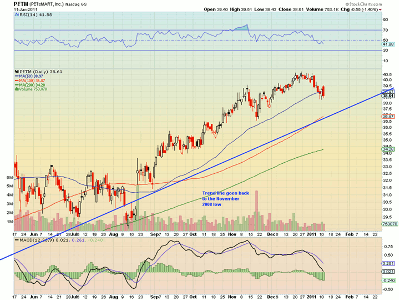 Click to Enlarge
Three additional factors suggest this correction lower:
Price has corrected some from the top, but has recently fallen through the 50-day SMA


Tuesday's bearish engulfing candle suggests lower prices to come


The RSI has not yet come near the 30 level, where it was during all other corrections
The MACD is also continuing to grow more negative as it hits the trend line. This combination suggests a pullback to where the rising 100-day SMA is overlapping the rising trend line (currently near $36.85), or possibly even further to the 200-day SMA at $34.28. For a short trade, a good place for a stop would be near the 50-day SMA at $38.97.
By Greg Harmon of DragonflyCap.com