What's Next for High-Flying Gold?
04/06/2011 8:00 am EST
Focus: COMMODITIES
We take to the charts to identify the key support bands that must hold for popular gold ETF GLD and gold futures to continue their run to new all-time highs.
On Tuesday, gold and the SPDR Gold Trust Shares ETF (GLD) once again threatened another launch to new lifetime highs, so I wanted to zoom in on the daily chart and see the current chart picture and current levels to watch for positioning.
Here is the daily chart for GLD: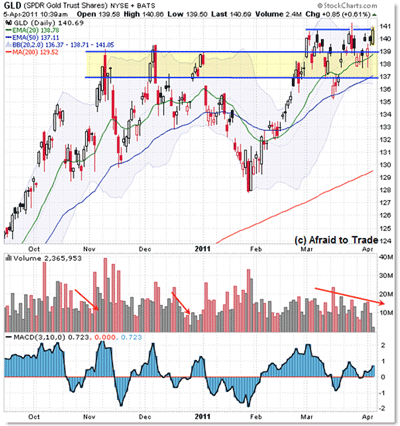 Click to Enlarge
Getting straight to the point, there is a clean horizontal band of lower support in the highlighted region from $137 to $139.
That's the level you should watch closely if trading long; gold should not break down under the $137 confluence level of the 50-day exponential moving average (EMA), lower daily Bollinger band, and horizontal support level unless something went terribly wrong.
Otherwise, the $139 level is the upper pivot that would flash a caution sign should GLD break down under $139 soon.
Barring those bearish or non-confirmation developments, GLD and gold again appear poised to push for another try at lifetime highs.
It's been puzzling that gold can't impulse powerfully higher as it breaks to new-high territory, but that's just part of the current chartscape we need to watch closely and without blind bullish (or bearish) bias.
The $141 level in GLD is the breakout pivot; or alternately, the short-term triple top pattern of tests outside—and rejections beyond—the upper Bollinger band.
I'd like to see volume a bit higher given that the ETF is at new highs, but that's yet another sign of caution to monitor that should prevent rampant, unchecked bullishness at this very moment.
Here's the simple chart picture for gold itself: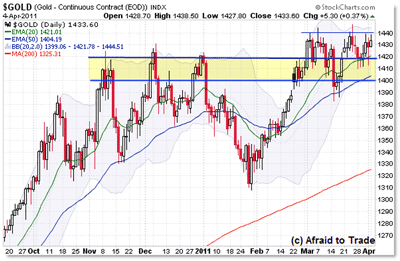 Click to Enlarge
Without getting into too much detail, the daily band of support rests between $1,400 (a very obvious level) and $1,420. The minor $20 band above that is where we are now: $1,440 to $1,420.
Any move under $1,420 (20-day EMA and band of support) that comes soon is a caution/warning sign, and anything back under $1,400 for more than a day or so is a very big warning sign.
Note the long lower shadows of rejection or buying tails in mid-March under $1,400—a bear trap. Always monitor real-time developments when price breaks a critical support (or resistance) area for anything suspicious or out of place.
Big buying tails (lower shadows) at the 50-day EMA is indeed suspicious, and as you can see, the minor break was just a mean bear trap that resulted in a push to new highs.
Keep these levels—particularly the daily bands—in mind as you position or trade into gold and GLD.
By Corey Rosenbloom, trader and blogger, AfraidToTrade.com