2 India ETFs Near Critical Support
07/19/2011 8:00 am EST
Focus: ETFS
Traders and investors looking for growth and value should consider two ETFs that track India, both of which have critical support nearby and would prosper from India's ongoing economic expansion.
India is expected to increase its growth rate to 9%-9.5% during 2013-2015 on the back of continuing structural reforms, globalization, and a sterling demographic dividend, according to a report by Morgan Stanley.
These projections act as a catalyst in showcasing the quantum of investment opportunities in India. Similarly, the senior economists opine that the Indian economy may have expanded at close to 9% in the three months from April to June 2010, its fastest pace in more than two years, driven by high industrial growth and increased private investments.
Giving a boost to the Indian economy, auto sales grew 31.5% in June 2011 over the corresponding period last year, as per data released by the Society of Indian Automobile Manufacturers (SIAM).
Furthermore, the US Agency for International Development (USAID), through its cleantech energy initiatives, is exploring the potential of investing in India by partnering stakeholders and mentoring and working with policymakers.
Similarly, International Business Machines (IBM) announced that HPCL- Mittal Energy Limited has selected the company as its strategic partner in the design and implementation of a state-of-the-art manufacturing execution system for their zero-residue refineries at Bathinda, Punjab; thereby representing yet another foray of Indian investment opportunities.
Furthermore, there is a view that medical tourism in India is expected to grow to $2 billion by 2012, according to a report from McKinsey and CII.
The Indian economy could grow to USD $1.72 trillion in 2011-2012, according to an assessment by the Prime Minister's Economic Advisory Council (PMEAC).
Even with all of this fundamental information, India hasn't been immune to the global slowdown, and many investments are showing negative returns for 2011. However, if you are they type of trader that looks for beaten-down opportunities to catch the ride up, India might be a good place to look.
NEXT: See the Two Most Promising India ETFs
|pagebreak|
There are several ways to trade the Indian economy, the easiest of which may be via ETFs. One of the largest is the iShares India Nifty 50 Index Fund (INDY):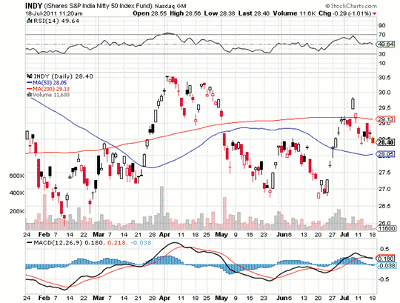 Click to Enlarge
Another choice is the Power Shares India Portfolio (PIN):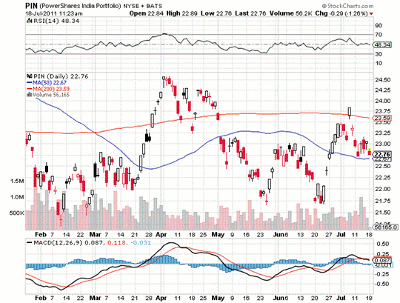 Click to Enlarge
Both ETFs are nearing their 50-day moving averages, which could act as support. PIN has the advantage of support at the 50-day moving average as well as previous support in early June.
Technically and fundamentally, these ETFs both deserve a look.
By the Staff at OIFC.in
This article was written by the staff of the Overseas Indian Facilitation Center, set up to expand the economic engagement of the Indian diaspora with India and facilitate effective knowledge exchange.