Bearish Tilt Typifies New Trader Survey
06/06/2012 8:00 am EST
Focus: TRADING
Tim Bourquin reveals the results of MoneyShow.com's latest trader sentiment survey, which shows dampened enthusiasm for stocks and the economy and a bullish tilt in favor of the safety of the dollar.
The Dallas Traders Expo begins today and runs through Friday. Traders from around the United States and 15 other countries will be attending free workshops on topics ranging from reading chart patterns to using supply and demand to spot money-making trades.
Over the last few years, MoneyShow.com and The Traders Expo have developed a tradition of "taking the pulse" of traders who register to attend the Expo to find out how they're feeling about the markets and their prospects for making money trading. We then track those results to see how sentiment changes throughout the year.
The last sentiment survey was conducted just before the New York Traders Expo in February (see results here).
Through a series of ten simple and direct questions, we gain a window into the overall sentiment of short-term traders. Nearly 1,000 traders completed this latest survey. Let's take a look at the results.
Question 1: Between now and December 31, 2012, I think the Standard & Poor's 500 average will…


Click to Enlarge
Traders are less bullish now than they were when the sentiment survey was conducted in February, when over 52% of traders surveyed were fairly bullish. This isn't surprising, however, given that the responding traders have endured a tough month of downward market action in May, just prior to completing the survey.
Trader sentiment has definitely turned more bearish on equities and the number of traders who believe the market will trade sideways jumped from 17% to just under 28%.
Question 2: For the remainder of 2012, in terms of number of trades, I expect that I will…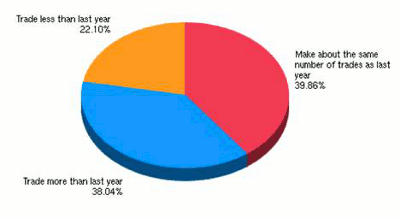 Click to Enlarge
The number of trades respondents said they would be making this year has decreased slightly in the past few months. In February, 46% of respondents stated they would be making more trades in 2012 than they did in 2011. That number is now just under 40%.
Although higher volatility can offer more short-term trading opportunities, it can also push traders to hold trades longer in order to wait out dips and spikes. This may be contributing to the lower number here in mid-2012.
Question 3: From now until December 31, 2012, I estimate the percentage of my trades that will be SHORT sales will be…

Click to Enlarge
Interestingly, the responses on this question compared to February are nearly identical. Over the years, we have seen the percentage of short trades increase, as traders have realized they need to be able to trade both sides of volatile markets. The numbers again appear to be stable this year.
See also: Trade Down Moves without Going Short
NEXT: Where Traders See the Most Profit Potential
|pagebreak|
Question 4: For the remainder of 2012, I expect that my most profitable trades will be in…

Stocks continue to be the trading vehicle of choice and has been since MoneyShow.com and the Traders Expo began measuring trader sentiment three years ago. Options and forex continue to grow in popularity with the retail public, however.
Exchange traded funds (ETFs), while exploding in the number available to trade, have remained around 8% for 18 months in terms of "most profitable" trades for survey respondents.
Question 5: For the remainder of 2012, I expect the Federal Reserve will…


Click to Enlarge
Ben Bernanke and the Federal Reserve have made their thoughts on this matter relatively clear. It's not surprising that nearly 87% of respondents believe there will be no change to interest rates in 2012.
No doubt, the continued struggles to create US jobs and stimulate overall economic growth contributes to this sentiment.
Question 6: For 2012, I expect my trading profits to be…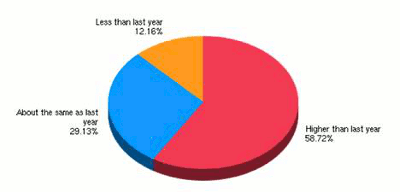 Click to Enlarge
Traders are a confident group, and this question shows their optimism. Nearly 60% of respondents believe they will make more money trading in 2012 than they did in 2011.
However, that number was nearly 75% in February. Perhaps being early in the year reflects greater optimism by traders as they realize they have plenty of time to find that perfect trade. The recent downturn in the markets may also be having an effect. Traders are less likely to short than long, as evidenced by question 3.
As we enter mid-year, traders realize that time is running out to make up for losses and find that big gainer that will make them money. It will be interesting to see what the results are in November, near the end of the year, prior to the Las Vegas Traders Expo.
Question 7: For the remainder of 2012, I expect the US dollar, in relation to other currencies, to…
Traders are more bullish on the prospects for the US dollar. In February, the number of traders who believed the greenback would "rise modestly or significantly" was just over 45%. That percentage is now 66%.
As trouble in Europe continues to weigh on the minds of traders and investors and inflation seems to be held at bay, the US dollar remains the safe-haven currency the world over.
Gold has also seen a significant decline in the months leading up to this mid-year survey, and that may also be having an effect on dollar sentiment.
NEXT: Latest Trader Sentiment Regarding Gold Prices
|pagebreak|
Question 8: From now until December 31, 2012, I think the price of gold will…
It appears the recent decline in gold has weighed on the sentiment of traders. In February, the percentage of respondents who were somewhat or very bullish on gold was over 60%. That percentage is just over 47%.
Gold and other metals like silver continue to make headlines in the media, and that number will change again in November, I'm sure.
Question 9: From now until December 31, 2012, I think the price of crude oil will…


Click to Enlarge
Oil futures and ETFs have become more popular trading vehicles for the retail public in the past few years. Traders are still bullish on the price of oil, but less so than in the beginning of the year. In February, respondents who were somewhat or very bullish on oil came in at nearly 64%. That number is now just over 40%.
See also: The Hidden Danger of Energy ETFs
Question 10: For the remainder of 2012, I expect the overall economy to…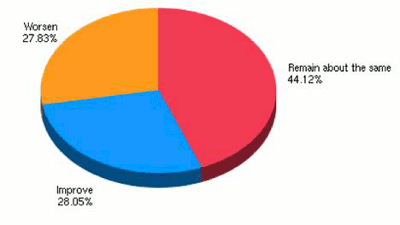 Click to Enlarge
Finally, we ask one question about the overall economy to give us an idea of respondents' overall feelings on the economy. The number of respondents who believe the economy will improve in the second half of 2012 dropped significantly, from 45.64% to just 28.05%.
Based on the other questions about specific markets, it appears traders have become more bearish in nearly every area except the US dollar.
Summer months are normally less volatile and result in lower volume in the stock market. Depending on how news about Europe and the Middle East comes in, that may not be the case.
Then, of course, all eyes will be on the US Presidential election. We'll see how traders feel about that outcome when we go back to them again in November and ask these same questions.
By Tim Bourquin, co-founder, The Traders Expo, and trading content director, MoneyShow.com
By clicking submit, you agree to our privacy policy & terms of service.
---
Related Articles on TRADING