6 Stocks That Defy Market Weakness
09/28/2012 6:00 am EST
Focus: STOCKS
Moby Waller of BigTrends.com highlights six stocks that have held up well during periods of overall market weakness, a good sign for any stock.
We ran a screen for liquid stocks that have shown recent strength amid the recent market weakness—September 14 was the recent S&P 500 Index intra-day peak of 1474.51. These are names that are optionable shortable, with stock price over $10, average daily volume over 2 million shares, and market capitalization over $2 billion.
Finally, we added a couple of simple performance to the screen in the form of basic technical analysis indicators—stocks had to be within 5% of their 52 week high and have recently had a bullish crossover of the simple 20 and 50 day Moving Averages.
This came up with a nice short list of 6 names:







Here is a table of the names, sorted by Year-To-Date (YTD) performance:


Click to Enlarge
With the SPY up 16% YTD even after the recent pullback, these names aren't notable outperformers—in fact 3 of them have underperformed the broad market ETF this year. However, they all have outperformed during September—something to keep in mind if we experience continued broad market weakness.
NEXT: Charts of the six stocks...
|pagebreak|
Here are quick stripped-down daily charts of these 6 big names over 2012, with 20 and 50 day simple moving averages and Williams Percent R (the BigTrends way):
Daily chart of CNP: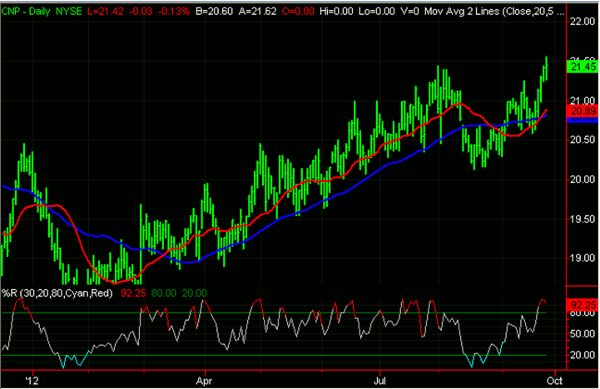 Click to Enlarge
Daily chart of CVS: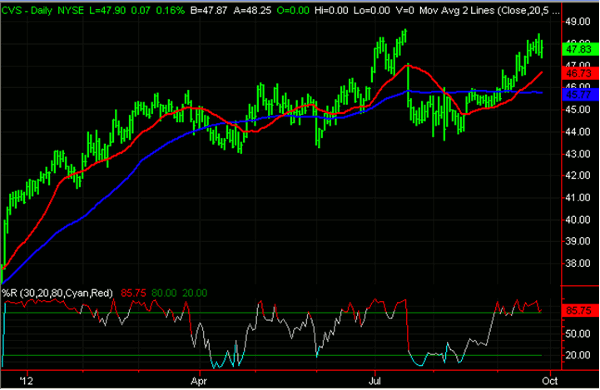 Click to Enlarge
Daily chart of JNJ: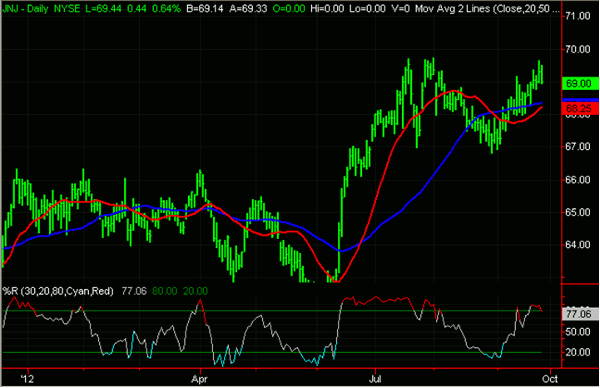 Click to Enlarge
Daily chart of MRK: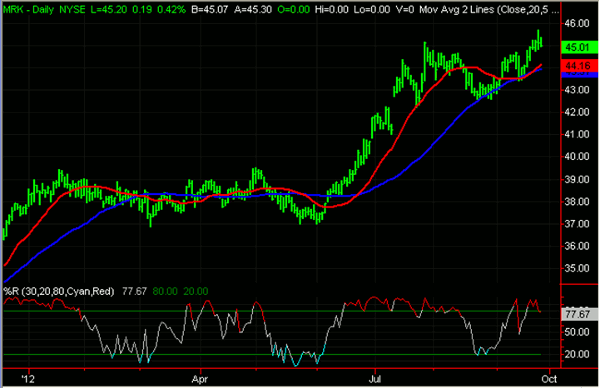 Click to Enlarge
NEXT: Daily chart of NI and VZ
|pagebreak|
Daily chart of NI: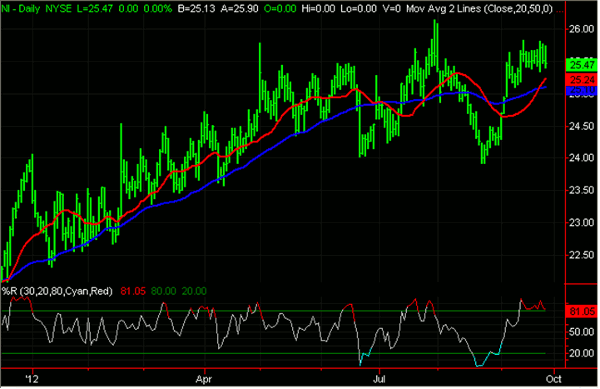 Click to Enlarge
Daily chart of VZ: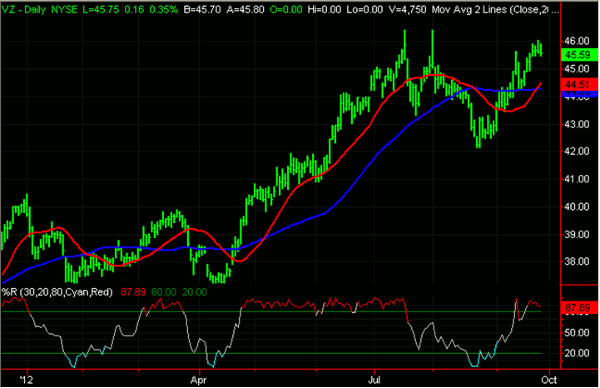 Click to Enlarge
Doing a quick further evaluation on these 6 names using a different charting platform and with different indicators, all of these stocks look fairly attractive here in my analysis –however, many are very quiet movers and won't provide a lot of day-to-day excitement.
The 2 most attractive bullish chart setups among this group in my view are CNP and MRK, but do your own research before investing/trading in any of these names.
Moby Waller can be found at BigTrends.com.