Red Flags for Traders in October
10/03/2012 6:00 am EST
Focus: TRADING
Currency trader Raghee Horner details why the apparent exhaustion in equities might be a warning sign to traders.
The Dow rally looked promising until Oct. 1, 12:30pm EST, and Ben Bernanke's comments on the current monetary stimulus. The early rally gave back over half of the early gain—back the better-than-expected ISM number—and settled on an up day, but with a upper shadow reminder traders and investors that the equities market may be losing its mojo as the oft-"jinxed" month of October began.
My current trading relies on the risk on (risk appetite) that has been seen over since mid-Summer with the Dow rallying from below 12,000 on the "YM" futures contract. The current consolidation in the Dow has me questioning whether this lack of higher highs (the "mojo" of any uptrend) is starting to signal that while the bulls may—for now—step in at levels of support like the 13,300 major psychological level, there may not be enough optimistic momentum to carry the YM to a new high.
The consolidation could exhaust the bulls and embolden the bears who have had a knack of driving the market lower in the month of October in historical if not epic ways.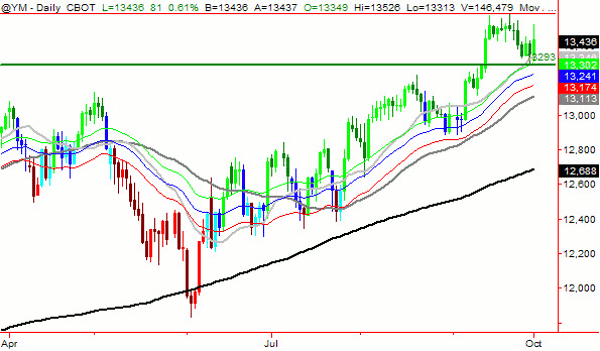 Past performance is not indicative of future results
Click to Enlarge
Reexamine your trades. Are they based on risk appetite or risk aversion? Do your trades benefit from a weak or strong US dollar? A weak or strong Dow? Making notes of the way in which your overall portfolio and your individual trades behave in up and down markets is key to trading with the harmony of the market. Oftentimes traders will have opposing positions that will drag their trading results down because their positions are on opposite sides of the risk conversation.
By Raghee Horner, Chief Currency Analyst, InterbankFX
By clicking submit, you agree to our privacy policy & terms of service.
---
Related Articles on TRADING