4 Years of Election Winners & Losers
11/08/2012 6:00 am EST
Focus: STOCKS
Looking back at the last four years of individual stock and sector performance, the staff at BigTrends.com highlights the leaders and laggards below.
Election Day 2012 has now come and gone, so below we highlight the performance of the S&P 500 and its ten sectors since Election Day 2008 four years ago. As shown, the S&P 500 (SPX)(SPY) is up 35.43% since the close on November 4, 2008.
Five sectors have outperformed the index and five have underperformed. Consumer Discretionary (XLY) has been by far the best performing sector since the last Presidential election with a gain of 73.11%. Telecom (XTL), Industrials (XLI), and Health Care (XLV) are all up more than 40%, while Technology (XLK) is just barely outperforming the S&P with a gain of 35.43%. Consumer Staples (XLP) is just below the S&P with a gain of 35.07%, while Utilities (XLU), Energy (XLE), and Materials (XLB) are all up roughly 25%. The Financial (XLF) sector has been the weakest since Election Day 2008 with a gain of just 13.97%.
S&P Sector Chart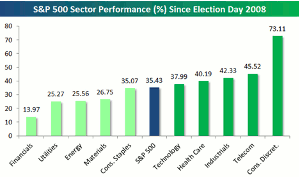 Click to Enlarge
The average stock currently in the S&P 500 is up 76% since Election Day 2008. Below are the 40 best and 40 worst performing current S&P 500 stocks since then. As shown, priceline.com (PCLN) is up by far the most with a 1,000+ percent gain. Whole Foods (WFM), Expedia (EXPE), AutoNation (AN) and Wyndham Worldwide (WYN) round out the top five. Apple (AAPL) ranks sixth with a gain of 427.88%.
Best S&P 500 Stocks Chart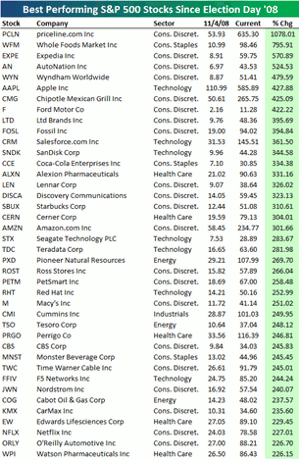 Click to Enlarge
Ironically, it's a solar stock that ranks dead last in terms of S&P 500 performance since November 4th, 2008. As shown below, First Solar (FSLR) is down 86.84%. Citigroup (C) ranks second to last, with a decline of 74.52%, followed by Apollo Group (APOL), Hewlett-Packard (HPQ), and Bank of America (BAC).
Worst S&P 500 Stocks Chart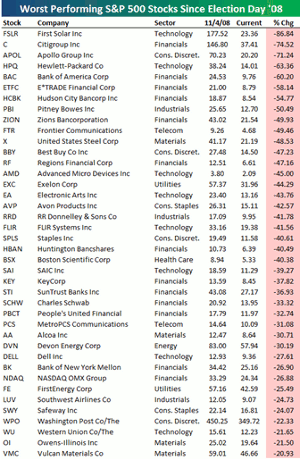 Click to Enlarge
November has typically been the strongest time of the year for the stock market in general, and election years have not been exceptions.
By the Staff at BigTrends.com