Entering the Euphoria Stage
12/05/2012 6:00 am EST
Focus: STRATEGIES
As the famous Blood, Sweat, & Tears classic says "What goes up, must come down…," and Toby Connor of GoldScents explains why the market is setting up for a fall.
I think we are on the verge of entering the euphoria stage of this cyclical bull market.

Click to Enlarge

Click to Enlarge
The euphoria phase is where the rate of change starts to accelerate as traders become convinced that the economy is booming, and will continue to boom into the foreseeable future (the last bull market), or in this case, that QE3 is a magic elixir with no unintended consequences.
During this final phase the character of the intermediate cycles should change and instead of a modest move above the prior intermediate top, we will see a strong acceleration and a significant and sustained breakout above the September high of 1475. All of the traders who have convinced themselves that QE is having less and less effect are about to be caught off guard as we move into the euphoria phase of the bull market.
You can see in the chart below in 2006/07, the intermediate cycle accelerated rapidly past the prior intermediate top at 1326 in a classic runaway move. While this certainly felt good at the time, it was the beginning of the end as the housing and credit bubbles began to implode.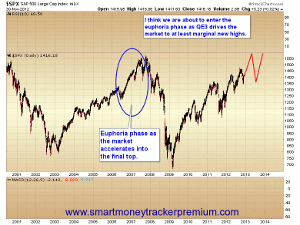 Click to Enlarge
I think we are on the verge of something similar as I believe QE3 will drive the market high enough to test or marginally break the all-time highs. However, it's also going to start an upward spiral in commodity inflation that will eventually poison this fragile economy and be the straw that breaks the camel's back.
Toby Connor can be found at GoldScents.