The Tail Has Stopped Wagging the Dog, But...
07/09/2013 6:00 am EST
Focus: MARKETS
Although Apple is the largest component of the Nasdaq 100 Index, their trends have diverged this year, writes Greg Capra of Pristine Capital Holdings, Inc.
Apple Inc. (AAPL) moved the NASDAQ 100 Index (QQQ) for the most part for a long time, but in 2013 that disconnected. AAPL moved lower as QQQ moved higher in 2013. Now AAPL has reached a point where those that have been in love with this stock (rightly so) have to step up to keep the very long-term trend alive.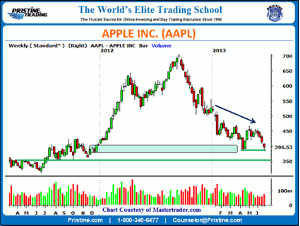 Click to Enlarge
AAPL made its high in mid-2012 and QQQ pulled back also into the end of that year, but in 2013 that correlation disconnected as the two moved in opposite directions. AAPL is now retesting the low it made in April and buyers have an opportunity to add to those positions.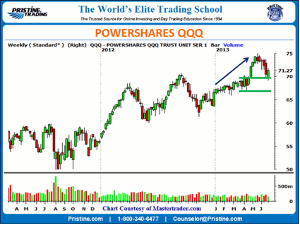 Click to Enlarge
With last week's reversal in the QQQ at support and AAPL retesting the prior low made in April, it's a point in time where the two are aligned again to move higher. If one or the other fails to hold its support level shown, the odds are that the QQQ will move to the second support shown and AAPL will move to the $350 dollar area marked.
By Greg Capra, President & CEO, Pristine Capital Holdings, Inc.