The Trend is Still Bullish
02/13/2014 6:00 am EST
Focus: TRADING
Market tops usually take time to develop, and the rollover is almost always a process, not an event, says LA Little on Minyanville.com.
The market character of 2014 is certainly not the same as 2013, but realistically, it would be a mistake to assume that this is it—that this is the big one to the downside. Market tops, when they do come, usually take time to develop. The rollover is almost always a process, not an event.
If we look at the current market using the S&P 500 (SPX) as our proxy, it still remains bullish on the intermediate-term time frame despite the month-long pressure to the downside.

Click to Enlarge
So far, this weakness looks about the same as what we saw in May and August of 2013. So what if that's all it is—just another pause that refreshes topside? That's certainly possible.
Here's the daily chart showing the huge trading range that has formed at this juncture. This range can be subdivided into three smaller ranges; the market is approximately in the middle of the middle range. Smack dab in the middle, so to speak.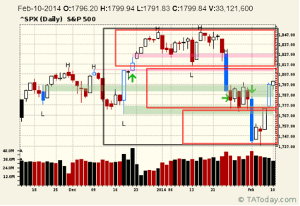 Click to Enlarge
The normal course of events would be a retrace back toward the bottom of the middle range, at which time buyers should step in and purchase. That's where demand shows on the chart.
Given the way this market has set up and that a topping process takes time, even if last year's top was the top,it will likely take another many more trading days to resolve this large range—and only then will we find out if it was distribution or consolidation. Given the trends, one has to err on the side of consolidation and an eventual upside breakout. It follows that one should be buying the next retrace with the knowledge that when the eventual breakout of the large range comes, the target is some 110 S&P points higher or lower depending on which way it breaks. That will be another large move. Until we get a definitive break to the downside, though, that's the outside bet still—even at this late stage of the game.
By LA Little, Contributor, Minyanville.com
By clicking submit, you agree to our privacy policy & terms of service.
---
Related Articles on TRADING