Are US Stocks Preparing to Blow Off?
03/25/2014 6:00 am EST
Focus: STOCKS
Gary Tanashian of BiiWii.com has always used the semiconductor sector as a "canary in a coal mine" for US manufacturing strength and economic bounce, and now that it's broken through a 10-year resistance, he details the implications.
We began allowing for the economic recovery and the stock bull rally in January of 2013 because the semiconductor fab equipment industry was ramping up production. That was information taken directly from the industry. Now we find ourselves a year+ later with the semiconductor index still fooling around above 10-year resistance.

Click to Enlarge
The busy chart below shows sneaky SOX creeping up along the top Bollinger Band, just as it did in 1999 before the great stock market mania blow-off in 2000.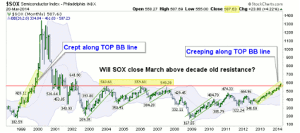 Click to Enlarge
Not since 1999 has the index exhibited this relentless band-creeping behavior. If this breakout holds, we have a target in the 900's that is in play. We also have SPX 2192 and RUT 1350 if I recall correctly. It's whacky, but they are real measurements.
Meanwhile, taking a look at emerging market and Asian charts, it looks like nothing but bearish. Copper? Sheesh.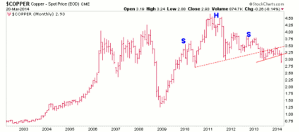 Click to Enlarge
Can the financialized economies of the developed world proceed forward not only unscathed, but toward accelerating bubble blow-offs as capital literally flies into the US, especially?
The SOX has been our proxy for the economy to this point and now with its break up and over 10-year resistance, we have got to ask that question. It all seems improbable, but there it is nonetheless. People shorting the market should at least ask "what the hell is SOX doing up there?" They also need to hope it reverses back down, like quickly.
By Gary Tanashian of BiiWii.com