Do the News Really Move Markets?
06/06/2014 6:00 am EST
Focus: STRATEGIES
Bob Stokes of ElliottWave.com offers historical evidence on whether or not geopolitical events really affect the stock market.
Stock market trends are independent of the news. Some investors would find that hard to believe. After all, stock market commentators constantly talk about how news stories drive market prices.
But Elliott Wave International (and others) have studied all the external factors that are commonly identified as influences on the stock market.
Here's what Robert Prechter wrote in the March 2010 Elliott Wave Theorist:
We have seen that interest rates, oil price changes, the balance of trade, changes in earnings, changes in GDP, the onset or termination of war, peaceful times, terrorist attacks, inflation, a central bank's monetary policy and a government's fiscal policy have no reliable effect on financial market prices. ...An event that seems to affect stock prices one way in the present, when investigated in the past, fails to provide any consistently reliable relationship.
Consider the government bailouts of financial institutions in 2008. Many market observers assume that bailouts were bullish for the stock market. The chart shows what happened.

Click to Enlarge
As you can see, the bailouts came in the early stages of the biggest bear market since the 1930s.
Recently, investors have been "ill rewarded" when buying into Fed news. Take a look at this chart from the May 2014 Elliott Wave Theorist.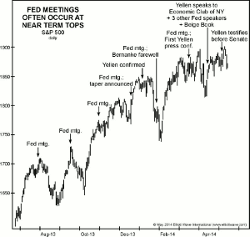 Click to Enlarge
For quite a few months, traders have been aggressively banging their "buy" buttons on days with Fed news. Their implied strategy is to profit from others' buying, which will enter the market once the Fed performs its magic. But buying stocks on Fed meeting days has been ill-rewarded since last July.
If news does not govern the market's trend, what does?
The market's fluctuations are governed by waves of mass psychology. And our indicators suggest that we are now in the final stages of the biggest wave in US history.
By Bob Stokes of ElliottWave.com