The Great Trend Tool of the Trailing Stop
01/18/2016 6:00 am EST
Focus: STRATEGIES
For the benefit of traders "in the Wyckoff trading world," the staff at Readtheticker.com highlights the trend tool of trailing stops since it is a very good tool that can either confirm or deny a momentum play.
You know when your momentum trade ends once your trailing stop is busted, all great waves end.
The trailing stop is also a great trend tool that will show up periods of strength and weakness that force a trend change. In the Wyckoff trading world that is something we want to know about.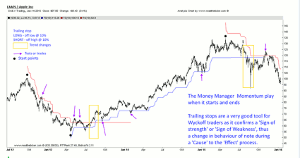 Click to Enlarge
To read the entire article click here…
By the staff at Readtheticker.com