A Leading Indicator for the Broad Markets in the States
02/25/2016 6:00 am EST
Focus: FUTURES
The DAX remains a quality leading indicator for the broad markets in the States, so Chris Kimble of Kimble Charting Solutions takes to the charts and illustrates that if it were to take out dual support in this zone, odds would increase sharply that a 10% decline could take place quickly.
If one was to look around the world for a stock market that could impact the S&P 500 the most, which market would you look at?
For a couple of years, the Power of the Pattern has been sharing with our members that the DAX Index (Germany) was very important. Below looks at the DAX and why an important bull market test is in play.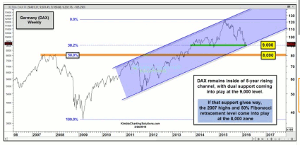 Click to Enlarge
Last year the DAX peaked the week of April 10 and broke support very quickly. The S&P 500 (SPX) on a weekly closing basis, peaked at 2,126 the week of May 22, 2015, and closed at the same weekly price again the week of July 17, 2015. The DAX sent an important topping message around six weeks ahead of time last year.
The DAX remains inside of a 5-year rising channel, shaded in blue above. The decline, since last April, took the DAX down to test its 5-year rising channel and 38% Fibonacci retracement level of the 2009 lows/2015 highs the week of February 12.
The 9,000 zone at this time should be viewed as dual support.
If this leading index would happen to break dual support in the 9,000 zone, the next support zone comes into play around the 8,000 zone (around 10% below current prices).
We have been sharing with our members for the past couple of years that the DAX remains a quality leading indicator for the broad markets in the States. If the DAX does take out dual support in the 9,000 zone, odds increase sharply that it a 10% decline could take place quickly. To read the entire article click here…
By Chris Kimble, Founder, Kimble Charting Solutions