Cannabis Earnings: The Good, the Bad, and the Ugly
05/20/2016 9:13 am EST
Focus: CANNABIS INVESTMENTS
Michael Berger is a leading expert on the cannabis sector, highlights first quarter earnings reported by three publicly traded companies. Here, the Associate Editor of MoneyShow.com categorizes these reports as either being good, bad, or ugly.
Investors rarely have the opportunity to get in on the ground on floor of an industry poised to see incremental revenue growth for decades to come.
The cannabis industry is the most rapidly developing industry in the United States. Although the emergence of this industry has created a lot of potential for investors, there are a lot of risks associated with it and investors must do their due diligence before investing.
Since we are in the middle of earnings season for the cannabis industry, we want to highlight first quarter earnings for three cannabis stocks.
The Good
We believe that the recent report from Surna Inc. (SRNA) highlights its continued growth and execution. Although Surna reported a loss, the company has seen significant growth and is executing on all fronts.
Surna is a developmental technology company that designs, manufactures, and distributes systems for controlled environment agriculture (CEA). Its products offer improved process control while reducing the required energy and resources needed to maximize yield. Currently, Surna generates most of its revenue from supplying technology to legal cannabis cultivation facilities, as well as from other indoor agricultural producers.
Quarterly Highlights
COO Trent Doucet will take over as CEO. Previous CEO Stephen Keen will lead innovation and product development for the company.
Secured a contract for approximately $725,000 with Las Vegas cultivator Cloud 9 Wholesale for a facility that covers 30,000 square feet, which will require approximately 550 tons of cooling equipment for cultivation climate control.
Received four design patents from the United States Patent and Trademark Office for its Surna Reflector products that deliver more direct light to the canopy while providing unique thermodynamic characteristics that improve heat transfer from the cultivation area. Surna now has eight pending patent applications and four issued patents.
Nearing fulfillment of a purchase order for over 400 Reflectors for use in a commercial facility.
Financial Highlights
Surna generated $2.5 million in revenue in the quarter, up from $819,000 in the same period last year. The company also saw gross margins increase to 43.6% from 10.8%, reflecting a better product mix and price point.
Although revenue increased, operating expenses decreased to $724,000 ($968,000 in the same period last year). Management expects to see expenses increase as revenue increases but they continue to try and find ways to cut costs.
During the quarter, Surna reported a net loss of $746,000.
Liquidity Highlights
As of March 31, 2016, Surna had $1.1 million in cash, compared to $331,000 at December 31, 2015. Deferred revenue was $1.4 million, up from $986,000.
Deferred revenue represents contracts in progress, as the company recognizes revenue as products are shipped or services are performed.
The Bad
We categorized Zoned Properties, Inc. (ZDPY) as bad because the report did not offer much. It contained many holes and leaves investors with more questions than answers. Although the company has a relatively high stock price for a cannabis company, ZDPY is down more than 57% this year and it barely trades any shares per day (average daily volume is 492 shares).
Zoned Properties is a strategic real estate development firm whose primary mission is to identify, develop, and lease properties in emerging industries, including the licensed medical marijuana industry.
Quarterly Achievements
Signed letter of intent to lease a 25,000 square foot space at Medical Marijuana Business Park in Tempe, Arizona
Signed agreement to expand development of flagship Marijuana Business Park located in Parachute, Colorado from 1.5 acres to 35 acres, covering 12 parcels of land.
Financial Highlights
Revenue increased to $406,406, compared to $227,286 in the same period last year.
Operating expenses increased to $586,186 from $355,262
Recorded a $236,653 net loss for the quarter, compared to $184,566 net loss during the first quarter of 2015
Liquidity Highlights
As of March 31, 2016, ZDPY had cash and cash equivalents of $1.05 million which was lower than the $1.28 million they started with at the beginning of the quarter.
The Ugly
We categorized Neutra Corp. (NTRR) as ugly because the company issued one of the worst earnings reports we have ever seen.
Neutra is a healthy lifestyle company, specializes in the development and marketing of natural wellness solutions, including cannabis-related products.
Business Lowlights
Neutra continues to rely on advances to fund operating shortfalls and management does not foresee a change in this situation in the immediate future. NTRR will not have the necessary capital to fully develop or execute until it is able to secure additional financing.
If the company is not able to raise capital or if those funds, NTRR may cease operations.
Financial Lowlights
Neutra has not generated any revenues to date and activities have been limited to developing its business plan and research and development of products. The company incurred a net loss of $1,442,640 during the year.
Although no operational developments were announced, the cash used by operating activities was $491,718.
Neutra does not expect to have positive net income in the immediate future.
Incurred $1,036,032 in general and administrative expenses
Liquidity Lowlights
As of January 31, 2016, Neutra had $284 in cash on hand (adequate to fund operations for less than one month) and a working capital deficit of $397,223
Neutra needs capital to fund operations and execute its business plan over the next eighteen months. NTRR believes that it will be able to issue notes payable or debt instruments in order to start executing.
Current cash on hand is insufficient to commercialize products or fully develop its business strategy.
Register for Technical420.com to keep up to date with cannabis stocks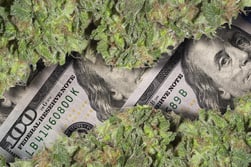 Supreme Cannabis Making Waves
03/17/2019 11:00 am EST
In February, the Supreme Cannabis Company (TSX: FIRE) made several announcements that highlighted it...