Don't Buy Into Falling Rates Just Yet
05/24/2011 1:49 pm EST
Focus: BONDS
The 30-year yield has a bit further to fall to signal a trend change. More likely, rates will rise once the Fed steps aside, write Pamelaand Mary Anne Aden of the Aden Forecast.
Interest rates continue falling as bond prices rise. The weak dollar, ongoing spending, money creation, and growing inflation pressures don't seem to matter.
Many times, the markets do their own thing, and it doesn't seem to make sense for a while. But sooner or later, the reasons for the market moves become more obvious.
For now, the Federal Reserve has said once again that it will keep interest rates low for as long as it has to. That is, until job growth is doing well, and the economy is strong enough to handle tighter credit.
Slowdown in the Offing?
But the economy is creeping along, and employment issues persist. Combine this with still-declining housing prices, and it could be some time before we see the changes the Fed is waiting for.
Interest rates are now rising in most countries. In several cases, they're much higher than US rates. That being the case, you'd think bonds would be declining—but they're not.
Remember, bond investors are generally more savvy than other investors, and they're sensitive to what's coming. What do they see that others don't?
Perhaps the US economy is going to slow more than expected. Maybe inflation won't be as strong as we're expecting, and a double-dip recession is coming after all.
It's very possible it was simply postponed, thanks to the Fed's bond-purchasing programs. And once the latest one ends on June 30, the economy will resume the course it was on following the 2008 financial crisis.
As you know, copper is the global economic barometer. When the economy is doing well, copper rises because it's in big demand for infrastructure, building, and so on.
Note that the copper price has been weak lately. If copper is headed lower because of an upcoming slowdown in the economy, interest rates are likely to follow.
NEXT: Fed's Fingerprints on Bond Yields
|pagebreak|
Fed's Fingerprints on Bond Yields
An alternative (and very likely) reason bond prices are rising is because the Fed has been buying so many bonds, it's temporarily propping up the market.
We know the debt is out of sight. It's at unprecedented levels and growing by leaps and bounds.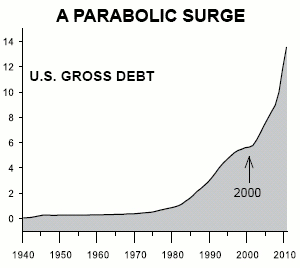 To finance this, the government sells US bonds—and the Fed has been buying 70% of these bonds with money it creates out of thin air.
This is ballooning the monetary base. At last count, it was growing at an annualized rate of about 100%, which is very inflationary.
So far this year, the Fed has provided all of the new net cash the Treasury has needed, buying $330 billion in Treasury notes and bonds. This is extraordinary.
The Fed has become the biggest buyer of US bonds in the world, passing China and Japan, which have been the top creditors for a long time.
But China is now diversifying its massive wealth, and Japan has problems at home.
This raises the big question: Who will fill the debt-financing void if the Fed really ends QE2 on June 30 and stops buying bonds?
It's going to be tougher to sell bonds to foreign countries after the recent warning by Standard and Poor's. As you probably know, S&P changed its outlook for the AAA US credit rating to negative this month, warning of a possible downgrade.
Watch This Key 30-Year Level
We believe that the Fed won't be able to stop its bond purchases. Or it may do so temporarily...but if it stops completely, interest rates will have to rise in order to make US bonds more attractive.
At some point, the Fed will have to start buying bonds again if it really wants to keep interest rates low to keep the
economy on track.
Currently, the yields are not yet oversold, which tells us that interest rates could fall further in the near term.
But given the overwhelming fundamentals, and the fact that the major trends remain up, we're fairly sure this interest-rate weakness will prove to be a temporary pause.
If the 30-year Treasury yield declines and stays below 4.3%, the trend will turn downward. [The 30-year yield stood at 4.38% near midday Tuesday—Editor.]
For now, the yield is not yet confirming that a big inflationary change is coming in the near future.