Join James Stack LIVE at The MoneyShow Las Vegas!
Join James Stack LIVE at The MoneyShow Las Vegas!
A Healthy Rest for Aging Bull
06/01/2011 10:00 am EST
Focus: MARKETS
Stocks' recent pullback from longtime peaks doesn't look anything like a new bear market, writes James Stack of InvesTech Research.
The recent drop in commodity prices has undoubtedly hit the speculators' pocketbook. However, lower prices for crude oil and raw industrial commodities will help to keep a lid on inflation pressures and will also be supportive for overall growth in the economy.
Not only will consumers see relief at the gas pump, but continued weakness in commodity prices will help to take the pressure off bond yields. This could give the Fed a little more leeway to maintain a low-interest-rate environment if the economy softens during the summer.
On the back of strong gains over the last nine months, we expect a normal period of consolidation ahead. However, technically the stock market remains on broad, sound footing.
On April 29, the Wilshire 5000 index, S&P 500, Nasdaq Composite, Dow Jones Industrial Average, Dow Jones Utility Average, Dow Jones Transportation Average, and Russell 2000 index all simultaneously hit new bull-market highs (with the latter two indices reaching new all-time highs). There is no stronger confirmation possible that this bull market, which began in March 2009, is still intact.
Additionally, the Advance/Decline Line, which is the accumulated sum of daily advances minus declines, continues to climb in an upward trend.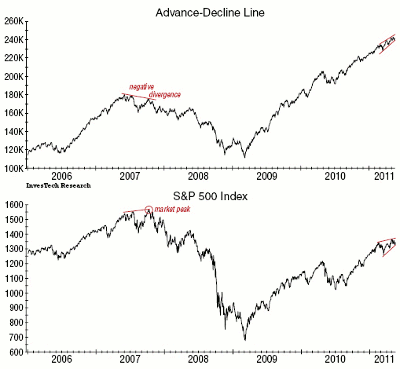 Click to Enlarge
As we work our way through the summer doldrums, it will be important to watch this indicator for any signs of weakness or negative divergence from the overall direction in the S&P 500, as was seen during 2007.
The InvesTech Bellwether Barometer, made up of large, liquid stocks that have displayed a cyclical price pattern and peaked prior to bull market tops in the past, is also putting in a confirming performance. This indicator is designed to capture early weakness in key economic sectors months in advance of a bull market top.
Currently, the Bellwether Barometer is showing no sign of a decline, as was the case before prior market peaks (red lines). As a consequence, it has yet to flash a warning sign for investors.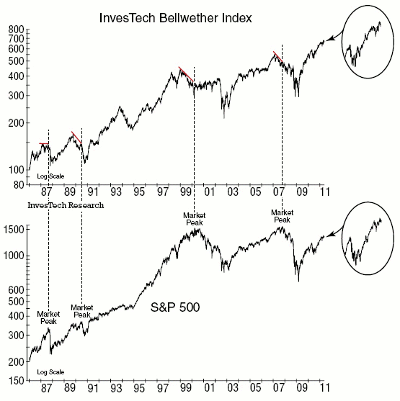 Click to Enlarge
A continued absence of downside leadership is another reliable signal the bull market is still in force. The "distribution" component of our Negative Leadership Composite, shown below, captures an acceleration of downside leadership.
This proprietary indicator hasn't moved into "distribution" territory so far, but it will be important to follow this closely going forward.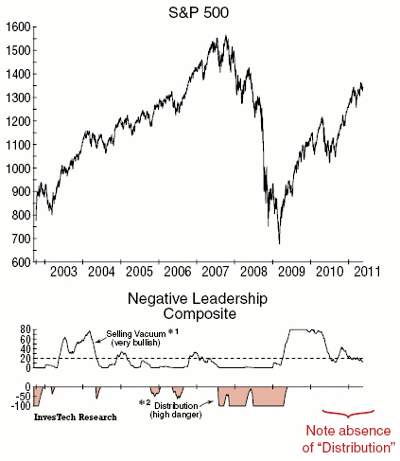 Click to Enlarge
After 26 months of a healthy bull market, and a 31% gain since the correction low in July, we would not be surprised if the market consolidated or experienced another correction during the months ahead.