3 Little-Known Techs in Rally Mode
02/22/2012 10:30 am EST
Focus: STOCKS
Big techs often grab the lion's share of headlines, along with institutional investment. However, retail investors who are prepared to monitor charts could see gains in these smaller technology names, writes MoneyShow.com contributor Kate Stalter.
In the area of networking gear, big fish and Dow component Cisco (CSCO) understandably gets a lot of attention. It's held in a number of index and large-cap funds, so plenty of individuals and institutions have an interest in the company's fortunes.
Likewise, Juniper Networks (JNPR) an S&P 500 component, which has a market cap north of $12 billion and substantial institutional ownership, and is also a closely watched company.
However, investors seeking faster growth are often drawn to smaller stocks within the same general sub-sector. That's true not only in tech, of course, but any industry or sector.
One small networking stock that's popped up on my scans lately is Israel-based Allot Communications (ALLT). The company's market cap is only $437 million, and it trades 357,000 shares a day on average.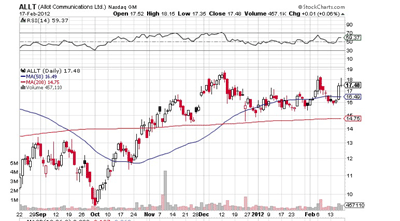 Click to Enlarge
The stock formed a steep consolidation in 2011, along with the broader market correction. It rallied up from an early October low, and has been trading above its ten-week average recently. The company's hardware and software products optimize network traffic.
The company grew earnings at triple-digit rates in past five quarters, though year-over-year growth has been slowing. Still, it's tough to complain about earnings increases that double from the prior year, and stratospheric increases are not sustainable indefinitely, anyway.
Analysts expect profit to rise by 17% this year, and another 20% in 2013.
I like the buy potential for this stock, as long as the broader market remains in some semblance of rally mode. Watch for Allot's price to clear resistance at $18.88, preferably in heavy volume.
Another Israel-based small tech that's been rallying is EZchip Semiconductor (EZCH). In recent sessions, it's been flirting with resistance right around $37 to $38, a level where it's struggled previously.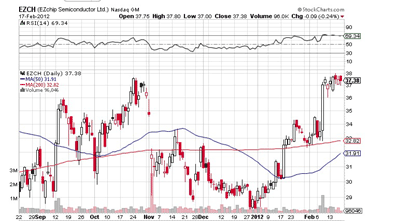 Click to Enlarge
The company, which makes chips for high-speed processing on networks, has a market cap of around $1 billion and moves approximately 250,000 shares per day.
Like many smaller stocks, EZchip can trade in a somewhat volatile fashion. It has a beta of 1.29, indicating more erratic trade than the broader market.
The stock's recent struggles could indicate that the stock's run-up is losing steam. In addition, the most recent price consolidation fell to about the same level as the prior correction, another signal that its rally could be long in the tooth.
While the stock could have some more room to run, some of the technical are flashing warning signals. On the other hand, recent highs on heavy volume are a positive sign.
The stock could offer a new buy opportunity if it can clear that $38 price in heavy volume, but I would be ready to sell shares quickly once the stock begins retreating, particularly if turnover picks up.
Another network gear maker that I've been tracking is Procera Networks (PKT), a California-based company that specializes in network traffic control.
This is a relatively new company that has recently turned around its earnings performance. The company suffered losses between 2004 and 2010, although it was gradually able to narrow those losses.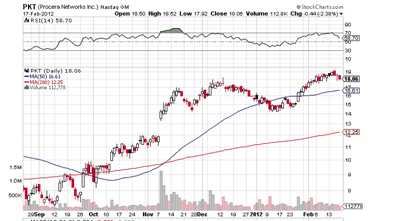 Click to Enlarge
It went public in September 2007, just before the market began correcting. The stock has never regained its opening-month highs, but recent price action has been encouraging. This month, it rallied to its best levels since June 2008.
Like Allot, Procera's price consolidation last summer was constructive, as fell to a low that undercut the previous base's trough. Since then, it's rallied strongly, posting price gains in five of the past six months.
The company is scheduled to report earnings after the bell on Tuesday, with analysts expecting income of a nickel per share, unchanged from the year-ago quarter. Revenue is seen coming in at $11.45 million, which would mark a 53% year-over-year gain.
This is a very small company, whose market cap is only $261 million. The stock trades 211,000 shares per day, putting it on the thin side. It's not surprising to see scant institutional ownership, although the number of funds owning shares has been growing.
Even so, an earnings-related surprise, either good or bad, can move the price significantly. Guidance for the coming quarter or year can send a stock plunging or soaring. Analysts' views that margins are being squeezed, competition is heating up, or the overall market is changing can also affect the price following an earnings report.
At the time of publication, Kate Stalter did not own positions in any of the stocks mentioned in this column.