MSRT: Growing Like a Weed
11/17/2015 9:46 am EST
Focus: CANNABIS INVESTMENTS
As earnings season in the cannabis industry continues, Michael Berger of Technical420.com highlights the latest company to announce results, which are signaling that things are looking up for this social networking site.
After the market closed yesterday, MassRoots Inc. (MSRT) filed its operating results for the quarter that ended on September 30, 2015. While the numbers do not look pretty, MSRT saw a number of metrics improve significantly. We expect to see this trend continue, and improve incrementally during the remainder of 2015 and all of 2016.
As the company continues to execute on its business plan, they will exit the developmental stage and experience incremental top and bottom line growth. MSRT has not had any trouble raising capital, which will help improve its service through organic and inorganic growth initiatives.
Third Quarter Highlights
During the quarter, MSRT saw its user base expand by 41% and the company expects to breach the one million user mark in late 2015 or early 2016. MSRT has been focused on improving its platform through the addition of new features that target the "non-stoner" demographic. The company has been focused on migrating servers, which will improve user experience, and MSRT expects to complete this process during the next quarter.
MSRT plans to introduce a new web interface in late November, which will open up MSRT's content to search engines. This should increase traffic and accelerate user growth. MSRT also plans to implement features that are offered by companies like WeedMaps and Leafly.
Monetizing its Network
In mid-August, MSRT started monetizing its network through advertising campaigns and the company expects to see revenue ramp during the fourth quarter of 2015 and throughout 2016.
Although MSRT generated $60,916 in revenue during the quarter, the company recorded a $2,097,247 net loss. MSRT expected to record a net loss due to the investments made in its team and its platform. The revenue generated brought down the company's monthly burn rate to $280,000 per month from $350,000 per month.
Raises Over $1 Million Overnight
Last week, MSRT strengthened its balance sheet after raising more than $1 million through a best-efforts offering. In less than 12 hours and without the assistance of an investment bank, MSRT raised $1,019,375 in gross proceeds. This is a testament to the strength of the company's team and it was the fifth successful up round of financing. Since inception, MSRT has raised $4.4 million in gross proceeds.
Prior to this announcement, MSRT announced that they have more than 625,000 users on its platform. The company is adding around 60,000 - 70,000 users per month, which is a significant jump from 50,000 users per month in late summer.
Outlook is Positive
We are favorable on the recent developments at MSRT. Although the fundamental story has improved over the last month, shares have fallen 10%. MSRT is trading at $1.35, which is below its 20-, 50-, and 150-day moving average. Momentum has started to trend up and we are favorable on shares at current levels.
We expect MSRT to hear back from the Nasdaq Capital Markets in the near future and we expect to see the company be approved for trading on the exchange. This potential catalyst will be a major milestone for not only the company, but the entire cannabis industry!
Michael Berger, Founder and President, Technical420.com
By clicking submit, you agree to our privacy policy & terms of service.
---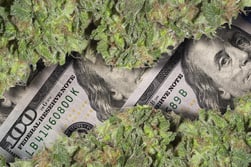 Supreme Cannabis Making Waves
03/17/2019 11:00 am EST
In February, the Supreme Cannabis Company (TSX: FIRE) made several announcements that highlighted it...