Canadian Cannabis Industry on a Post-Election High
11/19/2015 10:01 am EST
Focus: CANNABIS INVESTMENTS
The Canadian cannabis industry has seen stocks soar after Justin Trudeau and the Liberal Party won the Canadian general election, noted Michael Berger of Technical420.com. This rally has left investors wondering where this market is going and where they can still find value.
An interesting post-election development we have recognized pertains to how companies are raising capital. During the last month, the market has seen two Canadian cannabis companies announce bought deals with underwriter syndicates, and we expect to see increased M&A activity and industry consolidation over the next 12 months.
Canopy Completes Capital Raise
Earlier this week, Canopy Growth Corporation (CGC.V) closed its previously announced short-form prospectus offering on a bought-deal basis. The offering was oversubscribed and the underwriters fully exercised its over-allotment option. CGC.V sold 7,012,700 shares of common stock at $2.05 per share, for aggregate gross proceeds of $14,376,035 (CAD).
CGC.V plans to use the proceeds for capital expenditures at its facilities, operational expenses and general working capital purposes. During the last quarter, CGC.V made two significant acquisitions, and we expect to see some of this capital used for future accretive acquisitions.
Aphria Announces Capital Raise
Yesterday, Aphria Inc. (APH.V) entered into an agreement with a syndicate of underwriters on a bought-deal basis. APH.V is selling 7,692,500 units at $1.30 (CAD) per unit. The company expects to bring in $10,000,250 (CAD) in aggregate gross proceeds. Each unit offered by APH.V is comprised of one share of common stock and one-half of one common share purchase warrant. Each warrant will entitle the holder to purchase one common share at $1.75 (CAD) for a period of 36 months following the closing date, which is December 11, 2015.
APH.V agreed to grant the underwriters an over-allotment option to purchase an additional 1,153,875 units at the offering price for a period ending 30 days from the closing date. APH.V plans to use the proceeds for working capital and general corporate purposes.
Industry Consolidation
The victory by Trudeau's Liberal Party will serve as a long-term catalyst for the Canadian cannabis industry. If Trudeau legalizes recreational marijuana, many of these companies will see incremental top-line and bottom-line growth.
For this reason, we expect to see consolidation in the industry. Many of these companies are trying to increase their market share in preparation for legal recreational marijuana, and we will monitor and keep you updated on industry developments.
Michael Berger, Founder and President, Technical420.com
By clicking submit, you agree to our privacy policy & terms of service.
---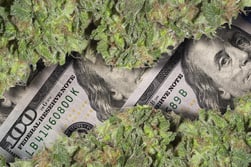 Supreme Cannabis Making Waves
03/17/2019 11:00 am EST
In February, the Supreme Cannabis Company (TSX: FIRE) made several announcements that highlighted it...