OGI and OGRMF: Expect More Growth
12/18/2015 9:45 am EST
Focus: CANNABIS INVESTMENTS
While the stock of this Canadian cannabis company and its subsidiary have both seen weakness over the last month, Michael Berger, of Technical420.com, lays out the reasons why he's favorable on the recent decline in price and monitoring shares for a buy opportunity.
The Canadian cannabis industry has come down from its post-election highs and this has created opportunities for investors. Before Justin Trudeau and the Liberal Party won the Canadian general election, Trudeau said he would make marijuana legalization a priority if he was elected as Prime Minister. Less than a week after he won, several Canadian cannabis stocks rallied more than 100%. Now that share prices have come down, we are monitoring several companies closely.
One of these companies, Organigram Holdings, Inc. (OGI) (OGRMF) announced better than expected financial results Thursday and the company is poised to see continued growth. OGI is based out of Moncton, Canada and produces and sells medical marijuana through its subsidiary, Organigram, Inc.
OGI Reports Significant Revenue Growth
During the fourth quarter, OGI generated $675,530 in revenue, an increase of 194% from the third quarter. The company continued to grow during the first quarter of 2016, which ended on November 30, 2015, and they generated over $1 million in revenue. This growth comes after OGI received regulatory approval to activate four more grow rooms in early September. This approval increased annual production capacity to 2,100 kilograms and was the driving factor behind the improved revenue.
OGI reached one of its business milestones during the week that ended on December 11. During that week, the company generated approximately $120,000 in revenue. This is a milestone because it provided OGI with a level of cash flow greater than its current operating expenses.
Focused on Growth
During the next year, OGRMF will be focused on several initiatives which would lead to significant top and bottom line growth. Currently, the company's total annual production capacity is 1,600 kilograms. One of OGRMF's short-term goals is to receive approval from Health Canada for six additional grow rooms within its existing facility. This would bring their total annual production capacity to 3,100 kilograms. Once OGRMF completes the expansion of its facility, they will be able produce more than 7,500 kilograms per year.
Trudeau's Liberal Party's election victory will serve as a long-term catalyst for the Canadian marijuana industry. If Trudeau legalizes recreational marijuana, many of these companies will see incremental top line and bottom line growth.
Outlook
During the last month, OGI and OGRMF have both seen weakness and shares have fallen by 17% and 24% respectively. We are favorable on the recent decline in price because OGI and OGRMF are up 223% and 168% during the last three months. Momentum has been trending down and we are monitoring shares for a buy opportunity.
Michael Berger, Founder and President, Technical420.com
By clicking submit, you agree to our privacy policy & terms of service.
---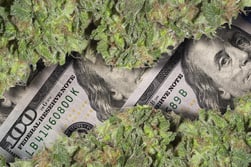 Supreme Cannabis Making Waves
03/17/2019 11:00 am EST
In February, the Supreme Cannabis Company (TSX: FIRE) made several announcements that highlighted it...