Market Queazies—Is Cannabis Sector Susceptible?
01/28/2016 10:00 am EST
Focus: CANNABIS INVESTMENTS
ADVERTORIAL—Michael Berger of Technical420.com highlights the upcoming California Cannabis Business Expo on March 3-5 in San Francisco. This can't miss event—that is filling up quickly—is the place to be to learn about the state of the cannabis industry.
2016 has been a tough year for the global markets and almost every industry is feeling the pressure from their investors, creditors, and partners. Although most publicly traded cannabis companies are listed on the over-the-counter (OTC) exchange, they are still affected by this weakness.
This sell-off has left many cannabis investors concerned and they are looking for clarity. In early March, investors can attend the second Annual Cannabis Business Expo, produced by MJIC Media, and learn about the state of the industry. The Cannabis Business Expo features a strong lineup of experts and brings together business owners, entrepreneurs, investors, business service providers, and many more!
Unsurpassed Networking Opportunities
The California Cannabis Business Expo is on March 3-5 and will be held at the Hilton Union Square in San Francisco. The expo offers unsurpassed networking opportunities, educational seminars, and an engaging exhibit hall for attendees and exhibitors to mingle.
The California Cannabis Business Expo attracts best-in-class attendees, exhibitors, sponsors, and speakers. It provides you with an opportunity to connect with members of senior management from public and private companies, owners and operators of dispensary companies, private equity firms, angel investors, accounting and legal firms, and much more!
Expert Led Educational Seminars
At the California Cannabis Business Expo, educational sessions will be led by industry experts that have helped shape state, local, national, and worldwide views on marijuana. These include Ethan Nadelmann, Rob Bonta, Fiona Ma, Bruce Barcott, Tom Lackey, and Ed Rosenthal among others. If you want to see the full speakers list, click here.
The conference will also feature a number of investor-focused sessions and activities. Some of these opportunities include:
@420 Pitch: This will attract hundreds of the top local entrepreneurs and investors from the hottest start-up market in the country.

CannaPitch IPO: Companies will be pitching their Mini-IPO under the new JOBs Act that will allow emerging growth companies to raise up to $50M.

Private Accredited Investors Sessions: These sessions will feature lead investors building micro funds as well as companies with a lead investor already in syndication.

Don't Delay, Register Today
This can't miss event is filling up quickly. Do not miss out on a great opportunity to learn about one of the fastest growing industries in the United States. The cannabis industry is not even in the first inning of a multi-decade growth cycle. Click here to register today!
Michael Berger, Founder and President, Technical420.com
By clicking submit, you agree to our privacy policy & terms of service.
---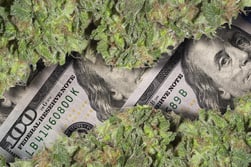 Supreme Cannabis Making Waves
03/17/2019 11:00 am EST
In February, the Supreme Cannabis Company (TSX: FIRE) made several announcements that highlighted it...