Aurora Cannabis: An Execution Story
06/02/2016 6:00 am EST
Focus: CANNABIS INVESTMENTS
Michael Berger, the Associate Editor of MoneyShow.com, is a leading expert on the cannabis sector, highlights the fastest growing licensed medical cannabis producer and views the company as a buy opportunity after reporting its third quarter earnings.
As cannabis continues to become mainstream, more investors will become attracted to the sector and look for investment opportunities within it.
Although the United States cannabis sector offers investors a lot of upside, it offers even more risk. The Canadian cannabis industry on the other hand is less risky because medical cannabis is legal at the federal level. The Canadian medical cannabis industry is also growing at an impressive 10% per month and it now has more than 70,000 patients. These two factors make the Canadian cannabis sector a very hot pocket of opportunity for investors.
Do Your Due Diligence
When investors ask what we look for in a cannabis company before investing, at a minimum we suggest that investors look into: 1) its management team, 2) its financial structure, 3) the exchange it trades on, 4) its track record, and 5) recent insider activity.
Investors need to be cautious and focus on companies that are well capitalized, led by a management team with a proven track record, have a sound financial structure, act in the best interests of shareholders, and continue to execute on business initiatives.
We believe that Aurora Cannabis Inc. (ACB.CN: Canadian Securities Exchange) (ACBFF: OTC) represents an attractive investment as it possesses the right traits and continues to execute on initiatives while registering new medical cannabis patients at industry leading rates.
About Aurora Cannabis
Aurora Cannabis is one of the 31 federally licensed medical cannabis producers in Canada under Health Canada's Marihuana for Medical Purposes Regulations (MMPR).
Aurora Cannabis trades on both the Canadian and United States stock exchange. The company's Canadian symbol is ACB.CN and its United States symbol is ACBFF. The company is the only licensed producer of medical cannabis in the province of Alberta, which has a population of 4.1 million people, and has registered patients across Canada, which has a population of 35 million.
Aurora's business strategy is to continue and accelerate its penetration of the Canadian cannabis market, receive a sales license from Health Canada for derivative products (i.e. cannabis oils), start to sell medical cannabis derivative products, transition to profitability in the short-term, and undergo a major expansion of its production capacity.
Catalysts for Growth
Aurora Cannabis has been selling cannabis products for less than six months and continues to register new patients at industry leading rates. The company received its license to sell medical cannabis on November 27, 2015, and started generating revenue from the sale of medical cannabis on January 5th.
On Tuesday, Aurora announced that it exceeded 3,000 active registered patients and management believes that this represents the fastest organic growth rate in patient registration when compared to any Canadian Licensed Producer.
On March 31st, Aurora said that it had registered 1,000 patients in its first three months of product sales. On May 9th, the company said it had surpassed 2,000 patients registered.
CEO Terry Booth said that based on its current organic growth rate, Aurora is moving rapidly toward achieving cash flow positive operations.
Launches Same-Day Delivery
Earlier last week, Aurora announced that the company would start providing same-day delivery to its registered patients, a service that further sets the company apart from the competition.
Aurora launched same-day delivery of cannabis in Calgary and adjacent areas, covering an urban area with over 1.2 million people.
The company plans to expand this service to Edmonton and Red Deer, Alberta in June.
Strengthened Management Team
Aurora is taking not only market share from other licensed producers, but human capital as well, in the form of new management and in its board of directors.
Earlier this month, Aurora appointed Michael Singer to its Board of Directors. Singer has a proven track record of success as an experienced CFO in the pharmaceutical sector and former CFO of licensed producer Bedrocan Cannabis Corp., which is now part of Canopy Growth Corporation (CGC.V) (TWMJF). Singer will provide Aurora with financial leadership and further strengthen corporate governance.
Aurora improved the strength of its management team in March through the addition of Cam Battley as Senior Vice-President of Communications and Medical Affairs. He is responsible for business development, external communications, investor relations, government relations, and medical and patient stakeholders.
Battley is also a member of the Board of Directors of Cannabis Canada, the trade association of licensed producers, and Chair of its Advocacy Committee. He previously served as Vice President, Communications and Corporate Development for Bedrocan. Prior to moving into the cannabis sector, he had built his career as an executive and management consultant in the biopharmaceutical industry.
In addition, in September of last year, Aurora hired Neil Belot, the former Executive Director of the Canadian Medical Cannabis Industry Association (now Cannabis Canada) to join the executive team as Chief Brand Officer, overseeing brand image and client experience – which the company has dubbed the "Aurora Standard".
Technology in a League of its Own
Aurora possesses several traits that set them apart from the competition. The company has brand new state-of-the-art facilities that are fully licensed for production and can produce over 7,000 kg of cannabis per year.
Not only can it produce a lot of cannabis, but Aurora can produce pharmaceutical-grade cannabis at a cost that is significantly lower than its competitors. Many cannabis producers incur high energy and water costs, which impacts the bottom line.
Aurora, however, has access to electricity at a fraction of the cost of its competitors based in Ontario and other provinces, as well as the rights to fresh mountain water on its 160-acre property in the foothills of the Rocky Mountains. As such, they do not incur any water costs. Aurora also has an automated cultivation process which maximizes efficiency and increases its yield.
Continues to Execute and Position itself for Growth
Earlier this year, Health Canada approved Aurora's request to start producing derivative cannabis products (cannabis oils) through a Section 56 exemption to the Controlled Drugs and Substances Act.
Since then, three additional production rooms received full Health Canada approval, including an additional extraction room for the production of cannabis oils through its GMP-compliant CO2 supercritical fluid extraction unit.
Recreational Marijuana to Spur Growth
When looking at Aurora's growth catalysts, none is more significant than the legalization of recreational cannabis at the federal level. At the April United Nations meeting, Health Minister Jane Philpott said Canada's Liberal Party government will introduce a law next spring to legalize recreational cannabis.
When the federal government takes such action, Aurora Cannabis intends to be a licensed producer for the recreational cannabis market.
Aurora recently closed a non-brokered private placement of $2.1 million principal amount of unsecured convertible debentures. The company said that net proceeds will be used for working capital purposes. We expect Aurora to use this capital in part to prepare for production capacity expansion, so as to meet future market demand for cannabis products.
A Buy Opportunity
Recent developments at Aurora Cannabis have made the company a leader in a country that is leading the cannabis reform movement.
One of the reasons why we are so favorable on Aurora Cannabis is on account of one specific factor: margins. The company benefits from its strategic geographic placement and its state-of-the-art facility which achieves the lowest production costs per gram in the cannabis industry.
We expect the company to report to be cash flow positive during the back half of the 2016 calendar year and this should serve as a catalyst for shares, similar to the way it did for OrganiGram (OGI.V) (OGRMF) during April.
ACB.CN and ACBFF are down 20% and 10% this year. We see value at current levels and view the company as one of the few long-term investment opportunities in the cannabis industry.
By clicking submit, you agree to our privacy policy & terms of service.
---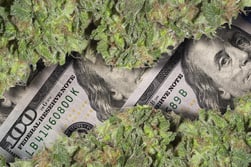 Supreme Cannabis Making Waves
03/17/2019 11:00 am EST
In February, the Supreme Cannabis Company (TSX: FIRE) made several announcements that highlighted it...