Top Three Cannabis Stocks Levered to Legalization
07/04/2016 1:41 pm EST
Focus: CANNABIS INVESTMENTS
Michael Berger is a leading expert on the cannabis sector. Here, the Associate Editor of MoneyShow.com highlights three publicly traded cannabis companies that he believes will benefit from continued deregulation.
The cannabis industry is the fastest growing and most controversial industry in the United States. Although the plant is legal in 25 states and the District of Columbia, it is considered to be a Schedule I substance.
The Drug Enforcement Agency and Food and Drug Administration (FDA) said they are researching cannabis in order to better understand it and classify it appropriately. Although nothing has been announced yet, we believe that a decision is right around the corner.
What is a Schedule I Substance?
Cannabis is currently considered to be a Schedule I substance and it falls into the same category as heroin, LSD, ecstasy, and peyote. Schedule I substances are considered to be the most dangerous and meet the following criteria:
The drug or substance has a high potential for abuse.
The drug or substance has no currently accepted medical use in treatment in the United States.
There is a lack of accepted safety for use of the drug or substance under medical supervision
The rescheduling of cannabis will create a domino effect for the entire cannabis industry as it will be the catalyst behind several important policy reforms.
Soon after cannabis is rescheduled, the Treasury Department will issue a memorandum which will set interim rules and regulations for banks when they are engaged with cannabis businesses.
Once these businesses are able to use banks, not only will the business become less risky but it will also become more profitable!
Top Three Cannabis Stocks Levered to Rescheduling
GW Pharmaceuticals (GWPH) — which develops its treatments from the cannabis plant — is poised to be the biggest beneficiary as the company is the only biotech stock to trade on the Nasdaq. This differs from Insys Therapeutics (INSY) and Zynerba Pharmaceuticals (ZYNE) which develop treatments from synthetic cannabis. Shortly after cannabis is re-scheduled, we expect to see GW Pharmaceuticals acquired by a big pharma company.
We prefer Zynerba Pharmaceuticals (ZYNE) over Insys Therapeutics because it has better market sentiment and a more attractive valuation. Zynerba fell more than 6% after the company reported favorable Stage 2 Clinical data yesterday and we see value at current levels.
CV Sciences (CVSI) trades on the OTC exchange and the company is directly levered to the biotech and cannabidiol (CBD) sub-sectors of the cannabis industry. Cannabidiol is a non-psychotropic chemical in cannabis, which has countless medical benefits. The company sell CBD products around the country and is levered to this rapidly growing segment of the cannabis industry. We expect to see CVSI to rally off of this news as deregulation would directly benefit its business opportunities.
Click Here to Register for Technical420…
By Michael Berger, Editor of MoneyShow.com
By clicking submit, you agree to our privacy policy & terms of service.
---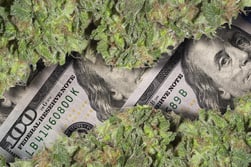 Supreme Cannabis Making Waves
03/17/2019 11:00 am EST
In February, the Supreme Cannabis Company (TSX: FIRE) made several announcements that highlighted it...