Why Canada's Cannabis Industry is the Best Place to Invest
07/11/2016 9:08 am EST
Focus: CANNABIS INVESTMENTS
While we are favorable on the United States cannabis industry, the Canadian cannabis industry offers investors more compelling opportunities because medical cannabis is legal at the federal level, asserts Michael Berger, a leading expert of the cannabis sector and Associate Editor of MoneyShow.com.
The Canadian medical cannabis industry is also growing at an impressive 10% per month and it now has more than 75,000 patients.
There are currently 31 federally licensed medical cannabis producers in Canada under Health Canada's Marihuana for Medical Purposes Regulations (MMPR).
Canada has announced plans to legalize recreational cannabis in spring 2017. Before recreational cannabis is legalized, we expect to see consolidation within the industry.
Legalization Plans Make Capital Easier to Access
The government's plan to legalize cannabis has made several licensed medical cannabis producers attractive investment opportunities to institutional investors, hedge funds, and investments, banks.
Licensed medical cannabis producers have raised more than $50 million so far this year and we expect this number to increase exponentially during the back half of the year.
This has made capital much easier to access, which has supported growth initiatives like land acquisitions, construction costs, license/company acquisitions, production capacity increases, etc.
Industry is Levered to a Large Pipeline of Event-Driven Catalysts
The number of investments like this have increased significantly this year as licensed producers prepare for an extended period of accelerated growth following these various event-driven catalysts.
These factors make certain licensed producers attractive investments as they are levered to this event-driven catalyst.
These factors make certain licensed producers attractive investments as they are levered to this event-driven catalyst. The Canadian medical cannabis industry and its constituents is subject to countless event-driven catalysts that can be lucrative if identified beforehand, as they provide an opportunity for a significant return.
Selectively is Key
Although the United States cannabis industry offers investors a lot of upside, it offers even more risk as a majority of the companies are fraudulent. Many of these companies trade on the OTC, are led by management teams focused on creating value for themselves, and rely on the sale of stock to stay in business.
These factors lead us to believe that the Canadian cannabis sector is the best growth sector in the market right now and offers the most upside to investors.
Although this sector is very attractive, due diligence is required with any investment. This is especially true when it comes to a new industry, particularly the legal cannabis industry.
nvestors need to be cautious and focus on companies that are well capitalized, led by a management team with a proven track record, have a sound financial structure, act in the best interests of shareholders, and continue to execute on business initiatives.
Before investing in a cannabis company, investors should always assess: 1) its management team, 2) its financial structure, 3) the exchange it trades on, 4) its track record, and 5) recent insider activity.
Top Investments in the Canadian Cannabis Industry
We believe that Aurora Cannabis Inc. (ACB.CN) (ACBFF) represents an attractive investment as it possesses the right traits and continues to execute on initiatives while registering new medical cannabis patients at industry leading rates.
Aurora Cannabis trades on both the Canadian and United States stock exchange. The company's Canadian symbol is ACB.CN and its United States symbol is ACBFF.
The company is the only licensed producer of medical cannabis in the province of Alberta, which has a population of 4.1 million people, and has registered patients across Canada, which has a population of 35 million.
Aurora Cannabis has been selling cannabis products for less than six months and continues to register new patients at industry leading rates. Last week, Aurora announced that it exceeded 4,500 active registered patients and management believes that this represents the fastest organic growth rate in patient registration when compared to any Canadian Licensed Producer.
Canopy Growth Corporation (CGC.V) (TWMJF) has also continued to prove itself as a leader in the Canadian medical marijuana industry. Canopy Growth reported over $12 million in revenue in its 2016 fiscal year, representing over 430% growth.
The company has received conditional approval from the Toronto Stock Exchange (TSX) to move from the TSX Venture Exchange and list on the TSX. Canopy Growth is the first publicly-traded cannabis producer to be approved and it expects to commence trading during the second quarter of 2017.
Canopy Growth is the largest licensed medical cannabis producers and it reported a to have more than 11,000 registered patients as of March 31, 2016.
OrganiGram (OGI.V) (OGRMF) is one of the largest licensed medical cannabis producers in Canada and it was the first to report positive cash flow from operations (second quarter of its 2016 fiscal year).
In late June, OrganiGram was approved to produce and sell cannabis oil extracts at its facility in Moncton, New Brunswick. The license was upgraded from production only and provides the company with another revenue stream, which will amplify top-line growth.
OrganiGram is in the process of expanding its facility to increase production capacity (expected to be completed later this year), The facility still has a lot of room to grow and its existing acreage and infrastructure should allow the company to increase production levels by 5x in order to satisfy higher demand.
Learn about this incredible industry by registering to attend The Cannabis Investing Event The MoneyShow San Francisco!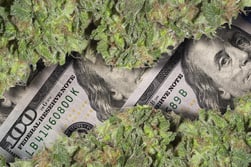 Supreme Cannabis Making Waves
03/17/2019 11:00 am EST
In February, the Supreme Cannabis Company (TSX: FIRE) made several announcements that highlighted it...