The Real Risk Facing iPhone 5
09/14/2012 9:00 am EST
Focus: STOCKS
It's not that another smartphone maker will build a better product, writes MoneyShow's Jim Jubak, also of Jubak's Picks. It's that cellular companies will balk at the juicy premiums they now pay Apple. What then?
What's the biggest threat to the iPhone, Apple (AAPL), and Apple shareholders?
It's not that Samsung or Google (GOOG) or the partnership of Nokia (NOK) and Microsoft (MSFT) will out-engineer, out-design, out-market or, worst of all, out-cool Apple.
It's not even—at least for the moment—the certainty that someday Apple will produce a clunker of a product. (Remember Lisa and Newton?)
Nope, the biggest threat is that AT&T (T) and Verizon Communications (VZ) will figure out how to wrest control of their marketplace back from Apple. To understand why, we need to dig into the financial details of the iPhone.
Powerful Product
On the evidence of Wednesday's iPhone launch, Apple has this marketing thing down. The new iPhone packs enough improvements, new features and design changes to make Wall Street predictions for the sale of 10 million phones by the end of September seem plausible. (The analyst consensus is for sales of 48 million iPhones by the end of December.)
The phone catches up to the competition by expanding the display to 4 inches (up from 3.5 inches), and matches the rest of Apple's product line by using the "retina" display (with six rows for apps instead of the five on the 4S.).


The phone is about 20% lighter and thinner.


The new A6 chip has twice the processing power and graphics speed as the A5 chip.


The 8-megapixel camera has 40% faster image capture and delivers better resolution in low light.


The phone also runs on faster LTE networks, and a new battery provides eight hours of life for 3G/LTE and ten hours for Wi-Fi.


Apple's Siri voice-recognition assistant can now deliver sports scores and make dinner reservations.


And unlike some recent product introductions—say, those from Nokia for its Lumia phones—Apple was very clear on prices ($199 to $399) and on when the product will go on sale. Apple will start taking pre-orders Friday, and the phone will go on sale September 21. That's Apple's fastest rollout for an iPhone model.
But if you want to understand the threat to the iPhone, all those hardware specs are just surface. The financial specs are what count.
Dialing in Dollars
The iPhone is Apple's key product. That's partly because it accounts for such a big percentage of the company's sales—43% of revenue in 2011 came from the iPhone.
But even more important is the iPhone's contribution to company profits. The iPhone makes up 70% of Apple's profits, according to Sanford C. Bernstein & Co.
And what makes the iPhone so extraordinarily profitable? The huge subsidies that AT&T and Verizon (and other wireless service providers outside the United States) pay to Apple.
A 64GB iPhone 4s may cost a consumer $399 with a two-year contract (or $849.99 without a contract), but Apple gets roughly $620 for that iPhone sale. The carriers make up the difference. Across the iPhone line, the subsidy is somewhere near $400 to $450 a phone.
Why would Verizon and AT&T do that? Ah, welcome to the very strange economics of the cellphone industry.
It's hard to grow wireless revenue these days in a nearly saturated market, such as that of the United States, even if you're a dominant player like Verizon or AT&T. Wireless revenue at Verizon grew by 7.3% in the second quarter of this year. For 2012, Standard & Poor's projects that wireless revenue will climb by just 4.4% at AT&T.
But that doesn't mean this is a bad business. Operating income margin in the second quarter for Verizon's wireless business came in at 30.8%. At AT&T, operating income margin was 30.3% for the quarter.
Next: It's About the Data
|pagebreak|
It's About the Data
Those juicy margins come from growth not in overall wireless customers, but in the amount of data services purchased every month by smartphone users above and beyond charges for basic wireless service.
In the second quarter, wireless data revenue per user climbed 15% at Verizon, and data-service revenue made up 44% of total wireless service revenue. The big increase in that data use comes from users of smartphones—whether they're iPhones, Android phones, or Windows phones.
In the second quarter, 50% of all postpaid wireless customers (as opposed to prepaid customers who don't have contracts) at Verizon had smartphones. That's up from 47% in the first quarter of 2012 and 44% in the fourth quarter of 2011. In the second quarter, 73% of all new phones sold by Verizon were smartphones.
You can see why Verizon and AT&T push hard for anything that might encourage more data use. Try this app. How about this service? Store your photos in the cloud. Read The New York Times on your phone.
And that's one reason they're willing to spend money rolling out faster networks—such as the new LTE network that Verizon has launched in 370 markets and that AT&T will have up and running in 100 markets by the end of the year. A faster connection will encourage smartphone customers to buy even more data. (The new iPhone 5 includes LTE capacity.)
And this strategy works. For example, average revenue per postpaid user (ARPU) at Verizon climbed 3.7% in the second quarter to $56 a month.
Second-Guessing the Subsidy
Now, neither Verizon nor AT&T wants to kill the smartphones that are laying these golden eggs. In the second quarter, Verizon activated 2.7 million iPhones (and 2.9 million Droids.) That's a lot of data service.
And I'm sure that Verizon and AT&T will see even more data-service revenue from the iPhone 5 with its LTE features. And all the numbers from the wireless service companies indicate that iPhone customers are the most loyal. That counts for something when it costs between $300 and $400 to acquire a new customer.
But still, the huge subsidy to Apple has to rankle whenever the CEO at Verizon or AT&T looks at the company books. The average subsidy for an Android phone is in the range of $200 to $300. If AT&T or Verizon could lower the Apple subsidy to near that level, it would push a lot of dollars to the company's bottom line.
Of course, all those dollars in reduced subsidies would come off of Apple's bottom line.
So why don't Verizon and AT&T just do it? There's some scary history here. Back in the early days of the iPhone, Vodafone (VOD)—Verizon's partner in its global wireless network—decided it wasn't going to pay Apple's price. The company then watched as customers left for carriers offering the iPhone.
Verizon itself has some experience of life without the iPhone. Both AT&T and Verizon can be certain now that if one of them were to balk at Apple's price, the other would be more than willing to sell iPhones to disgruntled customers.
That still doesn't mean that Apple will be able to keep the iPhone subsidy at current levels forever. One of the reasons that Verizon and AT&T have been so supportive of Nokia's efforts to revive its smartphone business (no, it's not because the two wireless companies have a soft spot for Microsoft) is that they'd like another lever to use in their attempts to reduce the subsidies they pay to Apple and to the Android makers.
Another phone-maker—a hungry one willing to strike any deal in order to survive—might be a very useful tool in this fight, if that company's phones can gain market traction.
So if you really want to track Apple's fortunes, pay attention to the battle between the company and the wireless carriers. I don't expect the subsidies to stay at current levels forever; what matters for Apple's stock is how quickly the huge margins that come from this these subsidies erode on a product that accounts for 43% of Apple's revenues and 70% of its profits.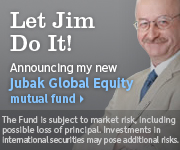 Full disclosure: I don't own shares of any of the companies mentioned in this post in my personal portfolio. The mutual fund I manage, Jubak Global Equity Fund, may or may not now own positions in any stock mentioned in this post. The fund owned shares of Apple and Nokia as of the end of June. For a full list of the stocks in the fund as of the end of June, see the fund's portfolio here.