Beat the Fiscal Cliff: The 5% Rule
10/30/2012 9:30 am EST
Focus: STRATEGIES
In the crunch that could be just ahead, a dividend stock with a 5% return would be golden. Candidates are few now, but here's where MoneyShow's Jim Jubak, also of Jubak's Picks, expects to find them.
Talk about sticking your head in the sand.
Everybody is worried about the possibility of our squabbling, self-interested politicians in Washington pulling a Thelma and Louise and driving the US economy straight off a fiscal cliff in 2013 and into a new recession.
Goodbye, 2% GDP growth. Hello, -0.6%. The US economy in 2013 would look like the Eurozone does currently.
But Wall Street is dealing with that possibility in one of two ways:
By pretending that it won't happen. (Yeah, and Congress didn't sink the US credit rating in an avoidable battle over the debt ceiling.)
By hoping that derivatives purchased for portfolios will provide insurance against the disaster. (Yeah, derivatives work really well when everybody wants to get on the same side of a trade.)
So instead of those options, let's take a novel approach in this column and actually talk about something you can do over the next few weeks and months to make the fiscal cliff, if it does happen, less painful. And to make a nervous market, if the cliff begins to loom dangerously near, profitable to your portfolio.
I'm not going to pretend that this is a grand solution. I'd be quite happy if you called it a partial solution or even a baby step toward a solution. But this isn't my last word on the subject, and we do all have to start somewhere, right?
My solution? Dividends. Today, I'm going to explain why creating a watch list of stocks with potential 5% (or better) dividend yields, putting away cash to buy those stocks if they hit my target (and I'll explain what that is), then buying in the confusion and chaos of any run-up to the fiscal cliff is a smart strategy.
The Time Bomb Ahead
Just in case you've been asleep and missed all the references to the fiscal cliff, let's review what it is and why it's a big problem.
It turns out that Congress and the president, probably without intending to, have turned the end of the year into an economic time bomb. Just on the tax side, on December 31:
The temporary Social Security payroll tax cuts expire.
The alternative minimum tax will begin to take a bigger share of income.
The Bush administration tax cuts come to an end.
New taxes required to pay for the Affordable Care Act (aka Obamacare) go into effect.
In more specific terms, the lowest income tax rate would go to 15% from 10%, and the highest rate would climb to 39.6% from 35%. (The 25%, 28%, and 33% brackets would go to 28%, 31%, and 36%, respectively.)
|pagebreak|
The tax rate on dividends would climb to match the rates paid on ordinary income, from the current 15%. Most capital gains would be taxed at 20% instead of the current 15%. According to the Congressional Budget Office, taxes would go up by $347 billion in 2013.
Further, over on the spending side, a deal put together as a way to get the US debt ceiling increased would require automatic cuts to the military budget and more than 1,000 other government programs. Defense would take a 9% cut and most nondefense programs-Social Security, Medicare, and Medicaid excepted-would get an 8% shave. Medicare would take a 2% cut.
The total effect in 2013 would add up to $600 billion, according to the CBO. Real economic growth (that's growth above inflation) would fall at an annual rate of 2.9% in the first half of 2013, and the unemployment rate would climb to 9.1%, the CBO estimates.
Stocks could fall by 20% or more. (Any estimate of the dimensions of a stock market decline is pretty much guesswork. But I think it's safe to say, the results wouldn't be pretty.)
The extreme nature of these consequences is, of course, why many on Wall Street argue this scenario will never happen. Knowing that doing nothing, or doing the wrong thing, would have such dire consequences means that politicians in Washington will never let this come to pass, the argument goes.
I think that view ignores the very real possibility that the November elections will push one or both political parties into a position of "Damn the consequences-let's just bring it all down and blame it on the other party."
And besides, we don't have to actually go driving off the fiscal cliff to do real damage to the economy and the stock market. Even a hint of it could paralyze capital spending and consumption decisions. And it wouldn't take more than a few days of the talking heads on TV panicking at congressional inaction to send the market into a serious retreat.
The 5% Rule
I have a suggestion for what to do with part of your portfolio in this fiscal-cliff-gets-scary scenario. It's based on my description of what I've called the "new paranormal" market. (See my March 2 Jubak Picks post for more on the concept.)
In such a market, an investor faces two major difficulties. As Pimco bondmeister Bill Gross has said of what he calls the "new normal," investors will be lucky to see an average annual return of 5% in this coming period.
And worse, that average return won't be very smooth. Instead, the average will be put together in a period of extreme volatility (the "paranormal" part). The challenge for investors will be to hold on through that volatility to reap a 5% average return and not to get whiplashed into buying high and selling low over and over again.
This is where dividends in general-and my 5% dividend rule in particular-come in.
More times than not, a better-than-decent dividend yield will keep an investor in that stock. Holding on to a stock paying 5% in a scary market is relatively likely when the alternatives are ten-year Treasuries paying just 1.74% and money-market accounts paying 0.17%.
And since stocks that pay solid dividends are less volatile to begin with, a dividend strategy stands a good chance of avoiding the buy high/sell low pattern that can decimate a portfolio.
Adding my 5% dividend rule to a general disposition to look for dividend stocks can turn that "good chance" of avoiding portfolio damage into a strategy for getting the best performance possible out of a "new normal" or "new paranormal" market.
The rule is pretty simple: If 5% is about the best annual average return you can reasonably expect, then when what you'd judge to be a good stock by the usual standards falls far enough to pay a 5% yield, you should snap it up.
This rule ends up working a little bit like dollar-cost averaging, because you buy fewer shares and fewer stocks when the market as a whole is expensive and more of both when the market is cheap.
|pagebreak|
Hard to Find...So Far
Right now, for example, if you're seeking 5% dividend stocks, the market looks expensive.
That's not surprising, because at its October 26 close at 1,413, the S&P 500 isn't all that far below its 2012 closing high of 1,466, set on September 14. When I scan any list of the stocks paying the highest dividends, I come away empty-handed in any search for 5% yields.
Even many of my favorite MLPs (master limited partnerships)-ones I've picked for my Dividend Income Portfolio-are showing yields below 5%. Look at Western Gas Partners (WES), with a 3.88% yield on Oct. 26, or Magellan Midstream Partners (MMP) at 4.52% or Oneok Partners (OKS) at 4.54%.
To get anything much above that, you have to go:
for more risk, such as Buckeye Partners (BPL), which pays 8.6%, but where pricey acquisitions have stretched the company's balance sheet;
overseas with a stock like Westpac Banking (WBK), where higher foreign withholding rates take a 6.43% yield down to a net 4.8%
or with a combination of more risk and higher overseas withholding with a stock such as Seadrill (SDRL), which pays an 8.38% gross yield with a high degree of balance-sheet leverage.
But, with an eye on the fiscal cliff, I can foresee some interesting yields of 5% or better appearing on the horizon.
My most recent survey of the dividend geography turned up interesting potential future 5% yield buys among US traded stocks at Statoil (STO), currently at a 4.48% yield; GlaxoSmithKline (GSK), currently at 4.66%; ConocoPhillips (COP), currently at 4.61%; Intel (INTC), currently at 4.1%; Diageo (DEO), currently at 3.03%; and Verizon Communications (VZ), currently at 4.6%.
Among MLPs, these caught my eye: Oneok, Magellan Midstream, and Plains All American Pipeline (PAA), currently at 4.8%.
If you can trade in overseas markets, I'd look at Svenska Handelsbanken (SHBA.SS in Stockholm) at 4.2%; Konecranes (KCR1V.FH in Helsinki), currently at 4.11%, Starhub (STH.SP in Singapore), currently at 5.42%; and Natura Cosmeticos (NATU3.BZ in Sao Paulo), currently at 3.42%. Remember: Those are gross yields, and you have to correct those yields for higher overseas withholding rates.
(The rules on how much of an overseas withholding tax you can recover on your US income tax return aren't simple, but they're not as complex as the Internal Revenue Service makes them seem, either. You can find the current rules on foreign tax credits for individuals on the IRS Web site. For a simple list of which countries charge what, see this list from Seeking Alpha. Note that Singapore and the United Kingdom have 0% withholding for US citizens.)
First, you need to sell
The final bit of advice is that to take advantage of my 5% dividend rule, you'll have to have some cash to use in case the fiscal cliff roils stock prices. You certainly don't want to be selling into a falling market to raise cash, so you'll need to raise some capital beforehand.
I'd look to see about selling in mid-November to early December or so, if the levels of fear and babble on the fiscal cliff seems to be rising. Fear of the fiscal cliff should be subdued until then, and if the US and Chinese economies continue to look like they're staging even a minor recovery, stock prices might be modestly higher than they are now.
(For more on my take on the possibility of that kind of rally in the relatively short-term-and for stocks to own beyond that time frame, just in case the fiscal cliff doesn't hit the stock market on this schedule- see my column "16 stocks for the rest of 2012.")
And, of course, any selling you might do means you'd go into any fiscal-cliff-inspired downturn with more cash on the sideline and less in the market, which, in itself, wouldn't be a bad thing.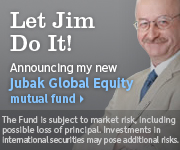 Full disclosure: I don't own shares of any of the companies mentioned in this post in my personal portfolio. The mutual fund I manage, Jubak Global Equity Fund, may or may not now own positions in any stock mentioned in this post. The fund did own shares of Natura Cosmeticos, Seadrill, Singapore Engineering, Statoil, and Svenska Handelsbanken as of the end of June. For a full list of the stocks in the fund as of the end of June, see the fund's portfolio here.