5 Stocks Getting a Big Boost from QE3
09/14/2012 2:00 am EST
Focus: STOCKS
These commodity names stand to reap the most benefits from the Fed's latest easing, which gives us both more economic strength and a weaker dollar, writes MoneyShow's Jim Jubak, also of Jubak's Picks.
One day doesn't a post-QE3 rally make. But as the first session comes to an end since the Fed announced that it would buy $40 billion in mortgage-backed securities a month, continue Operation Twist to force down long-term interest rates, and keep short-term interest rates near 0% at least through mid-2015, I think I can see a few patterns.
One that should interest investors and traders is that the biggest beneficiaries of the Fed's move may be emerging stock markets, which have been hit hard whenever confidence in the global economy has wavered.
And in those markets, the biggest winners may be commodity stocks. Those shares got a double dose of good news from today's announcement: first, that the global economy might grow more strongly than pessimists had projected, and second, that a weaker US dollar would push up commodity prices.
If you're looking for commodity sectors to study, I'd suggest copper and iron ore. Copper shares have been on a tear since the S&P 500's June 1 low. Shares of Freeport McMoRan Copper & Gold (FCX), for example, are up 31.4% from that low until the close on September 13.
Copper has held up better and rallied faster than commodities such as aluminum and iron ore because the underlying supply-demand story has been more supportive. Copper miners are having trouble expanding production, and in some cases—in Chile, for instance—2011 and 2012 have brought significant supply disruptions.
My favorites in this sector include Freeport McMoRan, because the company is coming off its own supply disruptions from a tough strike at its Grasberg Indonesia mine, as well as Southern Copper (SCCO) and Jiangxi Copper (358.HK or JIXAY in New York.) Freeport McMoRan is a member of my Jubak Picks 50 long-term portfolio.
On the other hand, shares of iron-ore miners have been killed in 2012, with Brazil's Vale (VALE), for example, showing a decline of 25.6% in 2012 (versus a gain of 2.78% for Freeport McMoRan for the year).
As with copper and other commodities, a falling dollar will give support to iron-ore prices. Hopes of faster economic growth will also push the stocks up. And the falling price of iron ore has hurt finances at mining companies badly enough that they've had to postpone planned expansion.
My favorites in this sector include Vale, the most concentrated play on iron in the sector, and BHP Billiton (BHP), a bigger and more diversified Australian miner.
I'd look at buys in copper and iron-ore stocks with different timetables. The fundamentals for iron ore are much shakier than for copper. Chinese steelmakers apparently have considerable stockpiles of iron ore, and it looks like Chinese steel production has been kept artificially high with subsidies from local governments. I'd look on iron-ore stocks as a relatively short-term trade here.
The fundamental story for copper, as well as the commodity's larger exposure to the recovering home building industry in the United States, give me more confidence in copper over a longer period than for iron ore.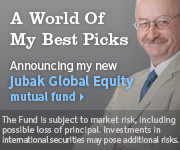 Full disclosure: I don't own shares of any of the companies mentioned in this post in my personal portfolio. The mutual fund I manage, Jubak Global Equity Fund, may or may not now own positions in any stock mentioned in this post. The fund owned shares of Freeport McMoRan Copper & Gold as of the end of June. For a full list of the stocks in the fund as of the end of June, see the fund's portfolio here.